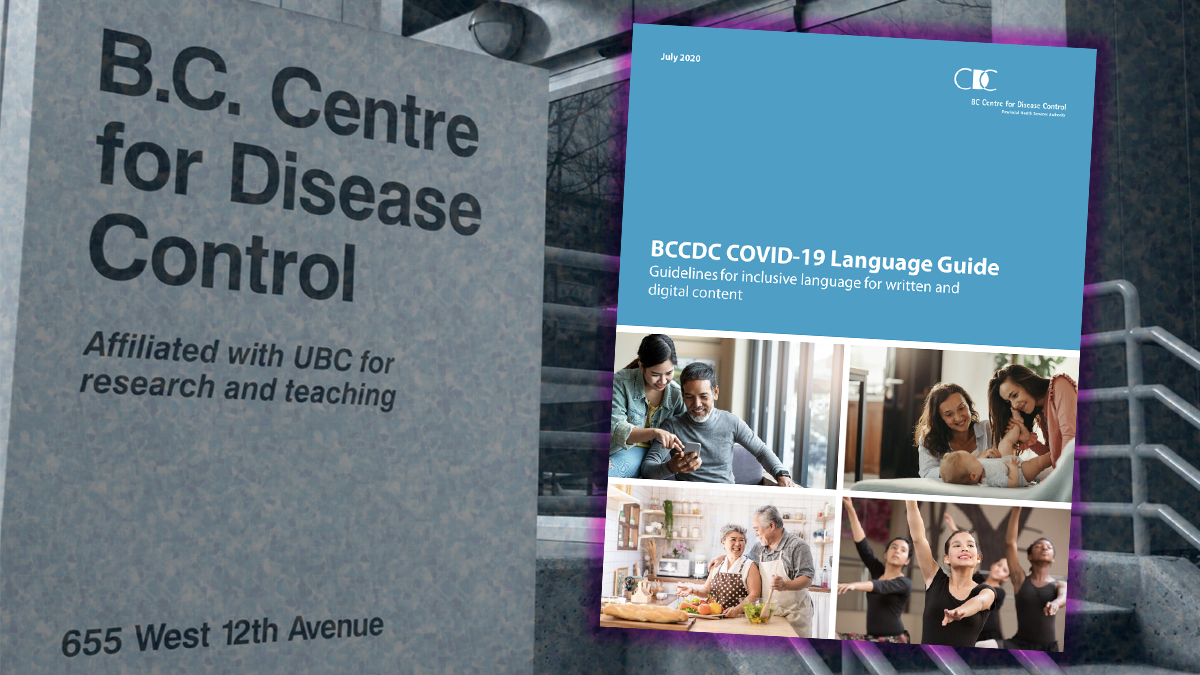 The BC Centre for Disease Control (BCCDC) has released a coronavirus language guide meant to direct people on how to use "inclusive" language when talking about the virus and other health-related issues.
"This guide aims to assist with COVID-19 messaging and content development by using positive, acknowledging, and inclusive, rather than potentially stigmatizing language that may provoke fear," claims the guide.
In a section called "Disease Basics," the guide suggests that Canadians do not say "fight/battle/attack the virus" or mention a "war on coronavirus" because "battle and war references can evoke images of violence and panic." Instead of using those terms, the guide suggests the alternative saying "protect/protection from COVID-19."
"When describing a person engaging with the healthcare system, 'individual accessing service(s)' and/or 'community member' is considered acknowledging and inclusive. 'Client' and 'clinician' words may affirm a power structure/ dynamic," the guide goes on to say.
The manual also goes onto lecture Canadians on the use of terms like "men and women" or "guys," suggesting that they're not "gender inclusive" ways of speaking.
"The phrase 'men and women' excludes non-binary people, and it is unclear whether it includes trans men and women. And 'guys" is not gender inclusive – people, everyone, folks, or folx are gender-neutral and thereby inclusive."
The guide also asks Canadians to "avoid terms like penis or vagina" and instead say "internal genitals" and "external genitals." It also suggests that people refer to a "pregnant woman" as a "pregnant person" and to the practice of breastfeeding as "chestfeeding."
These are only a few of the suggestions the guide makes regarding how Canadians should speak and think.
The guide also has sections on racial and ethnic identity, age and drug use.
According to the BCCDC, the guide was developed in response to a survey conducted in BC which claimed that British Columbians felt stigma and misinformation was present in the early stages of the coronavirus pandemic.
We're asking readers, like you, to make a contribution in support of True North's fact-based, independent journalism.
Unlike the mainstream media, True North isn't getting a government bailout. Instead, we depend on the generosity of Canadians like you.
How can a media outlet be trusted to remain neutral and fair if they're beneficiaries of a government handout? We don't think they can.
This is why independent media in Canada is more important than ever. If you're able, please make a tax-deductible donation to True North today. Thank you so much.