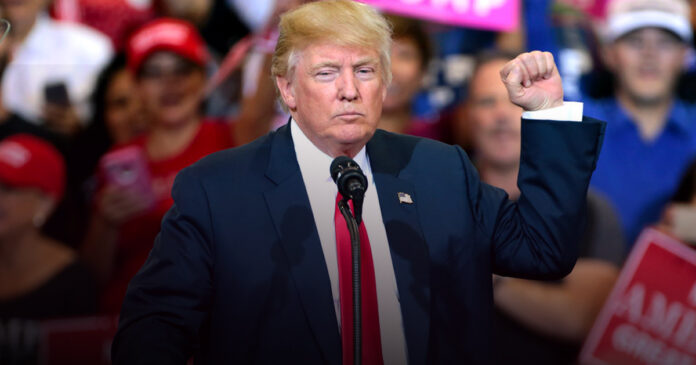 Donald Trump is the most polarizing figure in American politics. His critics don't just oppose him, they despise him, and they interpret his every move as an existential threat to America and the world.
But those who can get past his rough exterior see a different man: a champion of the working class, a successful businessman who takes a pragmatic approach to policy, an outsider who is unafraid to do things differently, and a patriot who loves the American people and strives to get his country back on the right track.
I recently sat down and interviewed historian and intellectual giant Lord Conrad Black for my podcast, the True North Speakers Series.
Black and I discussed his recent book, Donald J. Trump: A President Like No Other, which is part biographical and part recap of Trump's monumental political feats: winning the Republican primary despite every effort of the party, being elected to the highest office in the world with no prior political experience and a rag-tag team of novice yet loyal staff, withstanding 360 degree attacks from the Washington establishment and still managing to implement sweeping reforms.
Unlike almost every other political observer, Black took Trump seriously from Day One.
He recognized Trump's unique ability to connect with disaffected voters from both parties and use his celebrity appeal to pull off the politically impossible — all without kowtowing to political correctness or bowing to the woke mob.
I have to admit, when Trump first burst onto the political scene in 2015, I was skeptical. I thought he was uninformed and that his campaign was a publicity stunt.
But the more I observed Trump, and the more he accomplished, I came to realize a few factors that made me adjust my view.
Trump is an agent of change who stands up for the forgotten people of our society, while teasing and triggering the most powerful — including the dishonest media, which he exposed as unserious and hyper-partisan.
Black made strong arguments in our interview, including his assessment that Trump's first term in office was one of the most successful in American history.
Black isn't wrong. Prior to the COVID-19 global pandemic, Trump presided over a booming economy — his tax and regulatory cuts unleashed opportunity and upward mobility across the board. The median income rose 9.2%, the unemployment rate fell to its lowest in 50 years, half a million manufacturing jobs returned to America and the poverty rate fell to an all-time low.
His economic accomplishments are matched by other domestic achievements, including his commitment to appointing conservative justices, a criminal justice reform bill that gave non-violent offenders a second chance and a new regime of school choice that gives kids living in poor neighbourhoods the opportunity to attend a good school and get on a better path in life.
Trump's foreign policy record is equally impressive. He decimated ISIS and killed its leader Abu Bakr al-Baghdadi. He pulled out of the disastrous Iran Deal, isolating the terrorist state and curbing its ability to destabilize the region. He moved the Israeli embassy to its capital in Jerusalem, proving the prevailing wisdom of the foreign policy establishment wrong, and used that momentum to facilitate historic diplomatic peace deals between Israel and top Arab states.
Likewise, and despite all the warnings that Trump is a tyrant and a war-monger, he is the first president in my lifetime not to start a war.
Trump's biggest faults are his lack of message discipline and his violation of rhetorical norms. If you can get past these flaws — which I agree cannot be defended — you will see a champion of the working class, a change agent negotiating a better deal for his people and a powerful force for good in the world. He deserves to be re-elected.
We're asking readers, like you, to make a contribution in support of True North's fact-based, independent journalism.
Unlike the mainstream media, True North isn't getting a government bailout. Instead, we depend on the generosity of Canadians like you.
How can a media outlet be trusted to remain neutral and fair if they're beneficiaries of a government handout? We don't think they can.
This is why independent media in Canada is more important than ever. If you're able, please make a tax-deductible donation to True North today. Thank you so much.