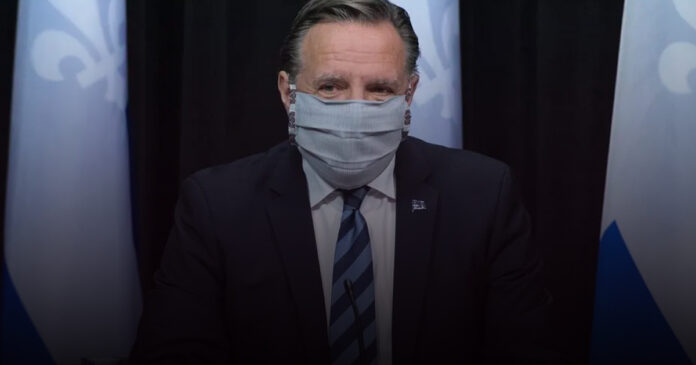 Quebec Premier François Legault has announced that most Quebecers will not be allowed to meet with loved ones on Christmas as the province tries to reduce the spread of the coronavirus.
Speaking on Thursday, Legault said that the original plan to allow residents to meet for two days has been cancelled as coronavirus hospitalizations continue to increase.
"It's not realistic to think we will succeed in reducing the progress of the virus by Christmas," he announced.
"I am announcing the two days foreseen for Christmas (gatherings) will be cancelled. We sincerely hoped the situation would get better but it has not."
In November, the Quebec government proposed allowing Quebecers two days to meet loved ones for Christmas, with a maximum of 10 people per gathering. With the plan abandoned, residents living in "red zones" will not be allowed a single visitor on Christmas day.
As of Thursday, the vast majority of Quebecers live in red zones, including all major cities.
On Wednesday Quebec announced 1,470 new cases of coronavirus, with 737 people currently hospitalized.
"The virus is in every region of Quebec, it's growing and it's dangerous," Legault added.
"It will be a quiet Christmas. We won't be able to receive people. It was not realistic to allow people to keep hoping."
Residents of Quebec's orange or yellow zones will still be able to gather on Christmas in groups of ten and six, respectively.
Legault stressed that the decision to ban Christmas was made by his government and not by Quebec Public Health Director Dr. Horacio Arruda. Earlier, Dr. Arruda had proposed waiting until Dec. 11 before making a decision.
We're asking readers, like you, to make a contribution in support of True North's fact-based, independent journalism.
Unlike the mainstream media, True North isn't getting a government bailout. Instead, we depend on the generosity of Canadians like you.
How can a media outlet be trusted to remain neutral and fair if they're beneficiaries of a government handout? We don't think they can.
This is why independent media in Canada is more important than ever. If you're able, please make a tax-deductible donation to True North today. Thank you so much.