Canada's Treasury Board says systemic racism is a serious issue in Canadian society and the public service.
In a post on Linkedin, the Treasury Board of Canada Secretariat describes the nature of racism and white privilege at length. The post infers Canada's institutions are systemically racist, which presumably includes the government department itself.
"Racism is so much bigger than personal bias. It's a system of interlocking relationships between individuals, institutions and structures," the post reads.
"Systemic racism favours the dominant group, granting them an unearned set of advantages, benefits and choices – privileges that are not awarded to racialized and marginalized groups."
True North reached out to the Treasury Board but did not receive a response in time for publication of this report.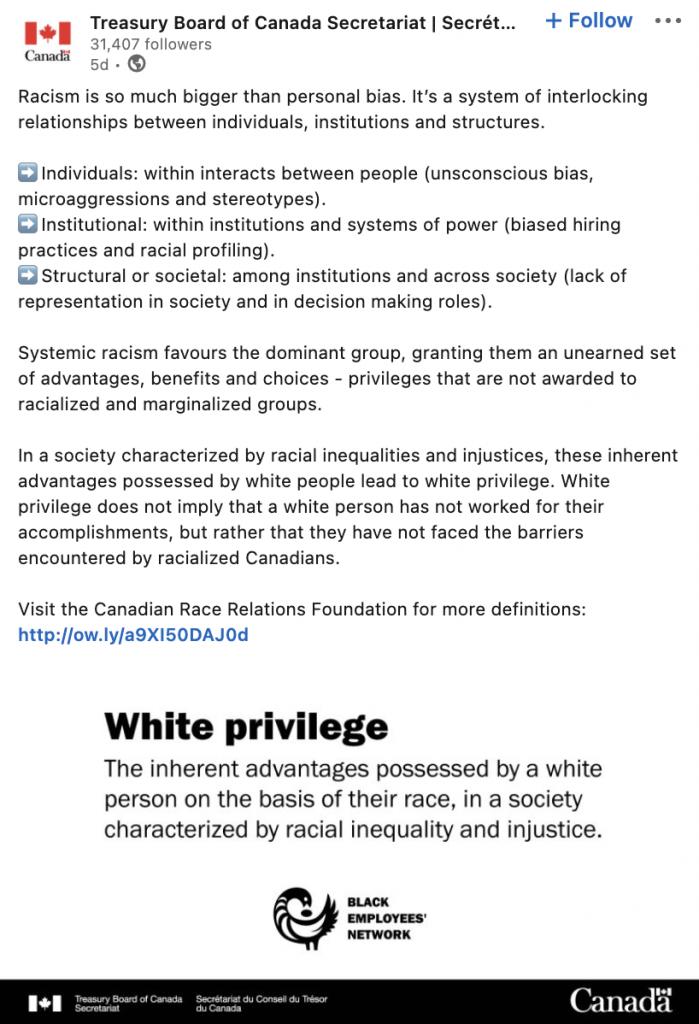 The Treasury Board is a department within the government that oversees the spending and operation of the federal government. According to their website, the Secretariat is the bureaucracy that works to "ensure tax dollars are spent wisely and effectively for Canadians."
Canada's public service has become increasingly focused on identity politics in recent years. In February, Clerk of the Privy Council Ian Shugart said Canada needs to urgently address systemic racism in the bureaucracy by hiring more minorities and combating "bias and oppression" in the workplace.
"In a society characterized by racial inequalities and injustices, these inherent advantages possessed by white people lead to white privilege," The Treasury Board Secretariat wrote.
"White privilege does not imply that a white person has not worked for their accomplishments, but rather that they have not faced the barriers encountered by racialized Canadians."
In a recent audit, the Public Service Commission concluded the federal government does not hire an appropriate number of minorities, even as 24.7% of new hires in the report are visible minorities.
We're asking readers, like you, to make a contribution in support of True North's fact-based, independent journalism.
Unlike the mainstream media, True North isn't getting a government bailout. Instead, we depend on the generosity of Canadians like you.
How can a media outlet be trusted to remain neutral and fair if they're beneficiaries of a government handout? We don't think they can.
This is why independent media in Canada is more important than ever. If you're able, please make a tax-deductible donation to True North today. Thank you so much.