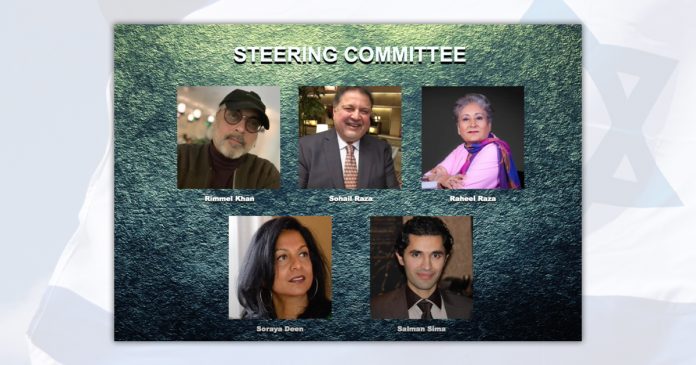 On April 7th, the Council of Muslims Against anti-Semitism (CMAA) held its inaugural event marking Israel's Holocaust Remembrance Day. 
Based in Toronto, Canada, the organization states that it is seeking to partner with Muslim thinkers, professionals and activists from around the world who are committed to fighting anti-Semitism in all its forms.
"We deliberately chose to launch our organization on Israel's Holocaust Memorial Day, known in Israel as Yom HaShoah, as opposed to the UN-designated international holocaust remembrance day on Jan 22," said Raheel Raza, President of the Council of Muslims Against anti-Semitism. "We are doing so to make a point as loudly and clearly as possible."
"This anti-Semitic demonization of the Jewish state is a common and central theme in contemporary extreme left, extreme right and Islamist [groups.]"
The CMAA has also differentiated itself from other Muslim organizations by not only adopting the International Holocaust Remembrance Alliance (IHRA) definition of anti-Semitism but by stating forcefully that attempts to diminish or undermine the definition serve only to promote, rather than combat anti-Semitism.
When asked what role Canada could play in combatting anti-Semitism globally in the Muslim world, Raza told True North that "Canada holds a great place of prominence in most of the Muslim world. They also give a lot of aid to Muslim majority countries so if the government has combatting anti-Semitism on its agenda they can play a critical role in this field."

Raza was also hopeful that in the coming years more non-Arab Muslim States would recognize Israel "especially if Saudi Arabia does," and that this is where change would come.
The CMAA steering committe member and founder of the Muslim Women Speakers Movement Soraya Deen echoed Raza's statements.
"anti-Semitism is a pandemic that has been raging for many years, unfortunately we have no vaccine that can cure it," said Deen.
"anti-Semitic incitement in the mosques in America must be a cause for concern…Radical imams and certain community members are spewing anti-Semitism in the US."
Other CMAA Steering Committee members included Rimmel Khan, Sohail Raza and Salman Sima. Its advisory board includes the President and Founder of the American Islamic Forum for Democracy Dr. Zuhdi Jasser and former Pakistani Diplomat Naeem Hassan, among others.
We're asking readers, like you, to make a contribution in support of True North's fact-based, independent journalism.
Unlike the mainstream media, True North isn't getting a government bailout. Instead, we depend on the generosity of Canadians like you.
How can a media outlet be trusted to remain neutral and fair if they're beneficiaries of a government handout? We don't think they can.
This is why independent media in Canada is more important than ever. If you're able, please make a tax-deductible donation to True North today. Thank you so much.