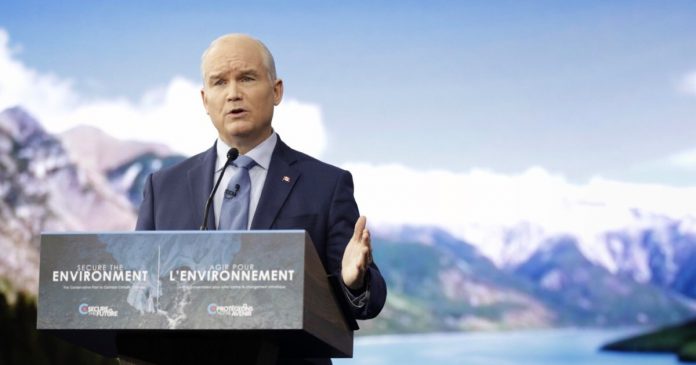 Conservative leader Erin O'Toole's climate plan has left some Conservative MPs feeling uneasy.
Last week, O'Toole announced the party's climate plan, calling for a national carbon tax of $20 per tonne increasing over time to $50 per tonne.
The plan avoids calling the carbon pricing a tax, saying that the levy will go into "Personal Low Carbon Savings Account," which taxpayers can draw from to make government-approved green purchases.
According to sources close to O'Toole, very few people within the party knew about the new climate plan until it was reported by the media. 
One anonymous Conservative MP told Postmedia that the proposal upset many within the party. Beyond hurting Canadians, in recent years the concept of carbon pricing has become a symbol of government overreach.
"I think a lot of people are surprised and frustrated," the MP said.
"The (carbon price) isn't just about dollars and cents. It's become a culture war thing."
Under former leader Andrew Scheer, the Conservative Party fought heavily against carbon pricing, a move that contributed to unprecedented support for the party in much of Western Canada.
O'Toole apparently told almost no one about the plan, with most MPs only learning about it after the CBC published leaked information about the proposed carbon pricing.
"We all first heard about this from the CBC article," another MP said, adding that most of the caucus was still unsure of the plan.
The climate plan was immediately slammed as a betrayal of his promise to scrap the carbon tax during his leadership run, with the Canadian Taxpayers Federation accusing O'Toole of breaking the "no carbon tax" pledge he signed last year.
We're asking readers, like you, to make a contribution in support of True North's fact-based, independent journalism.
Unlike the mainstream media, True North isn't getting a government bailout. Instead, we depend on the generosity of Canadians like you.
How can a media outlet be trusted to remain neutral and fair if they're beneficiaries of a government handout? We don't think they can.
This is why independent media in Canada is more important than ever. If you're able, please make a tax-deductible donation to True North today. Thank you so much.