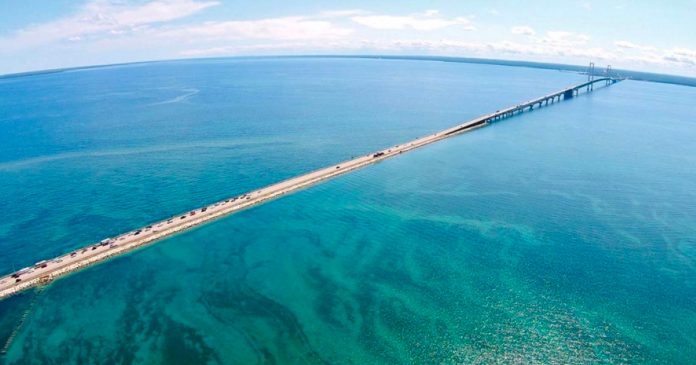 By: Michael Binnion
It looks like the worst energy crisis in recent history is coming – and Central Canada and our federal government are not ready.
In less than a month the Governor of Michigan intends to shut down Enbridge's Line 5 pipeline which brings the oil that creates half of the gasoline, diesel, propane and jet fuel that Ontario and Quebec consume. The closing of Line 5 will, in short order, cost Ontario access to 540,000 barrels of oil a day and threatens over 28,000 jobs. 
This will not only devastate Canada's energy security, but it could also cost the Liberals their chances of reelection.  According to a recent survey for the Modern Miracle Network, conducted by One Persuades, most Canadians are concerned about the consequences of shutting down Line 5. In vote-rich Central Canada, 66% of Ontarians and 55% of Quebecois say that the government should fight against the looming shutdown of the pipeline – and 54% of those respondents voted Liberal in the last election.   
Most voters are wondering how this will impact their job, the cost of fuel or the economy in general. They are worried about the impact on their families of job losses and significant spikes in costs if half of Ontario's fuel supply is cut off.  Surprisingly, the federal government has not acted on this issue despite the importance to voters in areas the Liberals need to win to form a majority government.  Now the federal energy minister has said some reassuring words and he has talked to the US Energy Secretary who happens to have no jurisdiction on this file whatsoever. 
But the only comments on this issue from the White House are not reassuring. Indeed, in the last few weeks, the Biden administration won't even commit to supporting US pipelines that are under construction.
In Canada, the Line 5 pipeline has multi-partisan support. Ontario's NDP leader has written to Ottawa on this issue, and a parliamentary committee recently put out a report further sounding the alarm. But so far there has been no action from the Prime Minister or the government. This is odd because a shutdown would likely impact the voting decision of over 30% of voters in the next federal election according to the survey – an alarmingly high 22% of Liberal voters said the shut down of the line could cause them to not vote Liberal. Geographically, 29% of Quebecois and 31% of Ontarians polled said a disruption to Line 5 would likely impact who they voted for in the next federal vote. 
This is significant. 20 Liberal seats in Ontario were won by margins of less than 10% and another 27 were won by less than 20%. In Quebec, the Liberals won 10 seats by less than 10% and another 6 by less than 20% in 2019. If the polls numbers hold, 63 Liberal seats could be at risk due to a Line 5 shut down.
The results of this poll should serve as a shot across the bow for the Liberal government. Even Trudeau's own Liberal voters in his stronghold in Central Canada know the Line 5 shutdown would be disastrous for their communities.
There is another risk associated with Line 5 getting shut down. It will embolden American activists who are trying to stop upgrades to Enbridge's Main Line, the even bigger pipeline that feeds Line 5. An Enbridge Main Line shutdown would have an even more devastating across-the-board economic impact. As its name suggests the Main Line is the main way Canadian oil gets to US markets. A shutdown of that pipeline would severely impact many of the 500,000 Canadian families that make their living from the energy industry – and it would devastate Canada's economy.
Strong statements by Ministers aren't enough – Canadians need to see real, tangible action. And soon.
Michael Binnion is the Executive Director of the Modern Miracle Network, whose mission is to encourage Canadians to have reasoned conversations about energy issues.
We're asking readers, like you, to make a contribution in support of True North's fact-based, independent journalism.
Unlike the mainstream media, True North isn't getting a government bailout. Instead, we depend on the generosity of Canadians like you.
How can a media outlet be trusted to remain neutral and fair if they're beneficiaries of a government handout? We don't think they can.
This is why independent media in Canada is more important than ever. If you're able, please make a tax-deductible donation to True North today. Thank you so much.