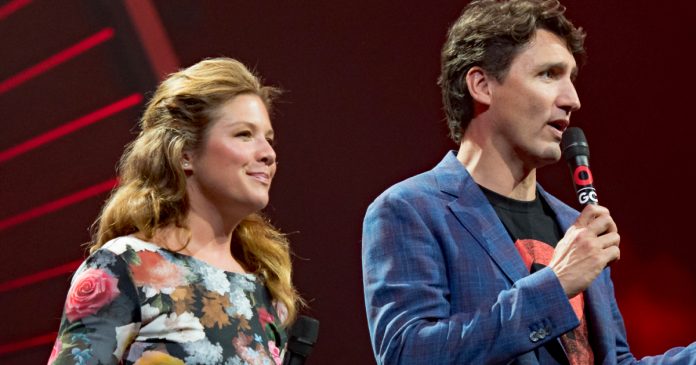 Many Liberal staffers were unimpressed by the offer of a virtual yoga session with Sophie Grégoire Trudeau as a reward for a "very long and intense year," the National Post reports.
Earlier this week, hundreds of Liberal staffers received an email from the Liberal Research Bureau saying the party wanted to reward them with a free, one-hour yoga session hosted by the prime minister's wife.
Liberal staffers were largely unmoved. Many anonymous Liberal staffers told National Post's Christopher Nardi that they were not interested and thought the whole thing was a waste of time.
"Yeah, that's going to be a hard pass for me," said one staffer.
"I saw the email subject and deleted it immediately," another staffer said.
"This is so silly," a staffer said about the event.
The email stressed that the session was open to all staffers regardless of their yoga experience. The email also encouraged staffers to join by noting that it was Canadian Mental Health Week and they have all had a very stressful year working through the pandemic.
"We've all heard this before, but this last year has been an intense one!" said the email.
"One thing that has helped many of us cope with the stress of the pandemic is getting some fresh air and doing some YOGA! So, in this spirit, Madame Sophie Grégoire Trudeau (a.k.a. Sophie) would like to invite you to participate in a virtual yoga class."
Grégoire Trudeau is a trained yoga instructor, having completed the hatha yoga and "Radiant Child" kundalini yoga teaching programs. Earlier in the year, she held free yoga sessions over Facebook.
Grégoire Trudeau has held yoga sessions in the past for Liberal staffers "as her way of thanking them." It is unclear how well attended previous sessions were.
We're asking readers, like you, to make a contribution in support of True North's fact-based, independent journalism.
Unlike the mainstream media, True North isn't getting a government bailout. Instead, we depend on the generosity of Canadians like you.
How can a media outlet be trusted to remain neutral and fair if they're beneficiaries of a government handout? We don't think they can.
This is why independent media in Canada is more important than ever. If you're able, please make a tax-deductible donation to True North today. Thank you so much.