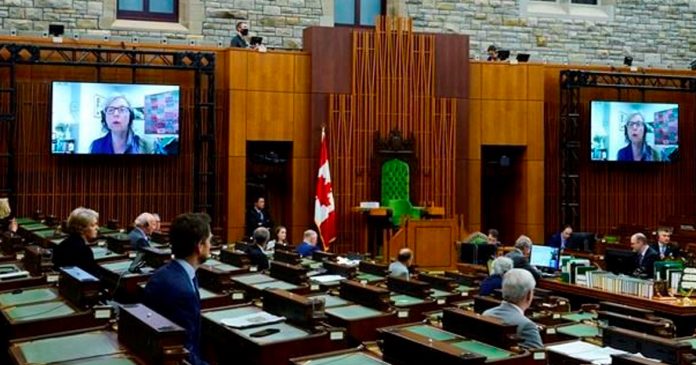 A Conservative bill seeking to make sex-selective abortion illegal has been defeated in the House of Commons.
On Wednesday, Bill C-233 was defeated 82-248, with the Liberals, NDP, Bloc and Greens united in opposing it.
The bill, proposed by Conservative MP Cathay Wagantall, would have amended the Criminal Code to prohibit medical professionals from performing abortions based on the sex of the fetus.
Bill C-233 was supported by most of the Conservative caucus, including deputy party leader Candice Bergen and former leader Andrew Scheer. Independent MP Derek Sloan was the only non-Conservative to support the bill.
Conservative leader Erin O'Toole, known for his hard pro-choice stance, voted against C-233, as did health critic Michelle Rempel Garner. Despite his strong opposition to the bill, O'Toole allowed his MPs to vote according to their conscience.
Prior to the vote, the Liberals called on O'Toole to force his MPs to vote against the bill, with Economic Development Minister Melanie Joly claiming it was dangerous to oppose abortion in any form.
"It is not enough for you to personally say that you will not vote in favour of C-233 and free vote is also not good enough. For our rights to be safe, we need to to curb all policies that attempt to control women's bodies," Joly said.
The Conservatives were sharply condemned by the Liberals, including Prime Minister Justin who claimed the bill is an attack on women's rights.
Despite the alleged attack on women's rights, Wagantall says sex-selective abortion is done in almost all cases to prevent girls from being born. In many cases, women are pressured or forced to have abortions by family members.
"While international case studies in countries like India or China are noteworthy, the painful reality can no longer be ignored: sex-selective abortion takes place right here in Canada," Wagantall said in a previous statement.
"Canada is a country that values equality of the sexes, and sex-selective abortion inherently denies the equal value of girls and boys."
We're asking readers, like you, to make a contribution in support of True North's fact-based, independent journalism.
Unlike the mainstream media, True North isn't getting a government bailout. Instead, we depend on the generosity of Canadians like you.
How can a media outlet be trusted to remain neutral and fair if they're beneficiaries of a government handout? We don't think they can.
This is why independent media in Canada is more important than ever. If you're able, please make a tax-deductible donation to True North today. Thank you so much.