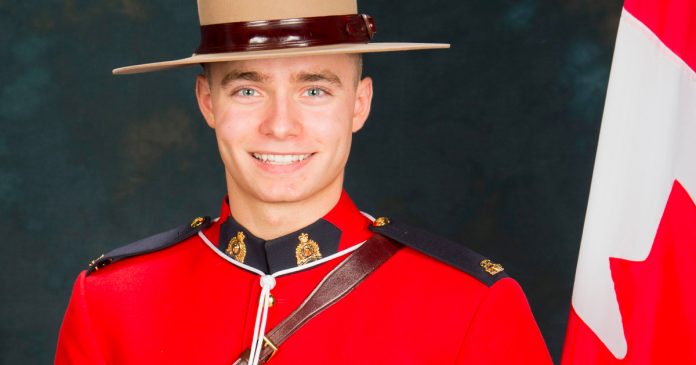 Canadians and family members are mourning Const. Shelby Patton, after he was killed in the line of duty in Saskatchewan over the weekend.
On Saturday, Const. Patton was hit by a stolen truck in Wolseley, Sask. A man and a woman were later arrested and charged with manslaughter.
Speaking to CBC, grandmother Linda Patton said that Const. Patton was a kind-hearted person who always put others first.
"He wouldn't harm anyone, that's the type of person he was and he'd do anything for you," she said.
"To me, he's the best. The best type of person you can ever deal with."
According to the RCMP, Const. Patton served his entire time in the RCMP at the Indian Head detachment east of Regina, where he was well known in the close-knit rural community.
"I just can't say nice enough things about him. It's hard too, because he was such a thoughtful person," Patton said.
The death of the young officer is being felt across the country, with law enforcement agencies across Canada putting out statements in solidarity with his family and Saskatchewan RCMP.
Saskatchewan Premier Scott Moe put out a statement praising Const. Patton and thanking him for his sacrifice.
"It is with tremendous sorrow that Saskatchewan mourns the loss of RCMP Constable Shelby Patton, who was killed in the line of duty this morning," Moe said.
"Our grief is only matched by our tremendous gratitude to Constable Patton for his service, and to every police officer who serves and protects us every day."
Moe was joined by federal Public Safety Minister Bill Blair and Prime Minister Justin Trudeau, both of whom took to social media to share their sympathy with Const. Patton's family and loved ones.
We're asking readers, like you, to make a contribution in support of True North's fact-based, independent journalism.
Unlike the mainstream media, True North isn't getting a government bailout. Instead, we depend on the generosity of Canadians like you.
How can a media outlet be trusted to remain neutral and fair if they're beneficiaries of a government handout? We don't think they can.
This is why independent media in Canada is more important than ever. If you're able, please make a tax-deductible donation to True North today. Thank you so much.