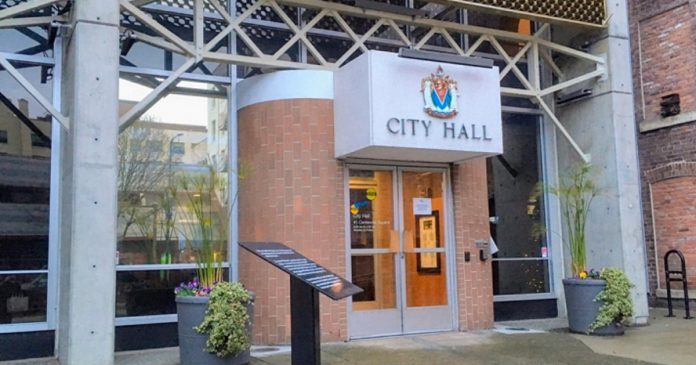 Four Victoria city councillors are calling on the British Columbia government to help municipalities align their policies with the United Nations Declaration on the Rights of Indigenous Peoples (UNDRIP) and other reconciliation initiatives.
A council member motion by Councillors Sharmarke Dubow, Ben Isitt, Jeremy Loveday and Sarah Potts was submitted to Victoria's Committee of the Whole on June 10.
The motion, which is to be presented before the Union of British Columbia Municipalities, calls "on the Province of British Columbia to provide support and equitable access to funding for trauma-informed, Indigenous-led education, training, and policy guidance for local governments and associated law enforcement and emergency services to implement municipal-specific recommendations from the TRC (Truth and Reconciliation Commission of Canada), MMIWG2S (Missing and Murdered Indigenous Womxn, Girls, and Two Spirit), and UNDRIP."
UNDRIP is a non-binding international document adopted by the UN in 2007. It purportedly constitutes "the minimum standards for the survival, dignity and well-being of the indigenous peoples of the world."
Critics of UNDRIP have claimed that aligning Canada's policies with the declaration would effectively grant First Nations groups veto powers over any future pipeline or energy infrastructure development. 
According to UNDRIP, governments must obtain "free, prior and informed consent" from local Indigneous groups before moving forward with economic development on their historic lands.
Currently, the Liberal government is moving Bill C-15 through the House of Commons. The legislation, if passed, would allow Ottawa to take "all measures necessary to ensure that the laws of Canada are consistent" with UNDRIP.
"This legislation will likely move the process of reconciliation backward, rather than forward, and have grave impacts upon First Nations communities to develop and prosper and achieve true self-determination," said Conservative MP Michael Cooper about Bill C-15 on May 14.
"This legislation would undermine reconciliation, and nowhere is that clearer than in the complete failure on the part of the government in this bill to define what constitutes 'free, prior and informed consent.'"
In 2019, the BC government passed Bill 41 which has been described as legislation that has gone the furthest in aligning a Canadian province's policies with UNDRIP. Despite the bill's implementation, Indigenous activists have argued that it doesn't go far enough. 
We're asking readers, like you, to make a contribution in support of True North's fact-based, independent journalism.
Unlike the mainstream media, True North isn't getting a government bailout. Instead, we depend on the generosity of Canadians like you.
How can a media outlet be trusted to remain neutral and fair if they're beneficiaries of a government handout? We don't think they can.
This is why independent media in Canada is more important than ever. If you're able, please make a tax-deductible donation to True North today. Thank you so much.