A number of activists, academics and prominent public figures have excused recent church burnings and acts of vandalism targeting historical Canadian symbols.
Comments include open calls to "burn it all down" in reference to Catholic church fires as well as calls to dismantle Canada's so-called colonial systems. 
True North has compiled a list of every prominent individual who excused the recent incidents. 
BC Civil Liberties Association Executive Director Harsha Walia
In a June 30 tweet, Harsha Walia said "burn it all down" in response to an article on two Catholic church burnings in British Columbia.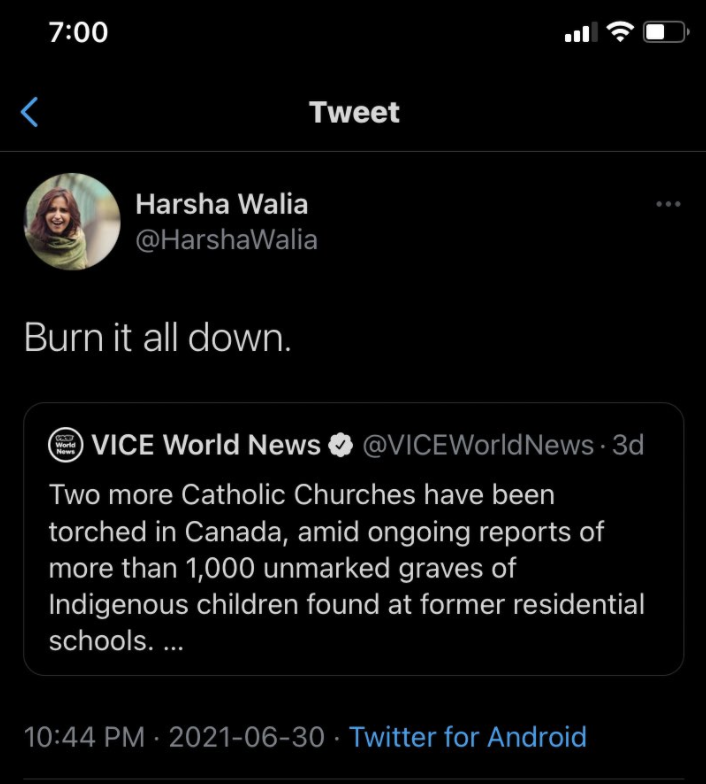 Following public backlash, Walia made her account private and claimed that she was not encouraging people to commit arson despite her comments. Walia still holds her position at the BC Civil Liberties Association.
Prime Minister Justin Trudeau
When asked about condemning the ongoing church fires, Trudeau told reporters on July 2 that the anger of those committing arson was "fully understandable" due to Canada's "shameful history."
"I understand the anger that's out there against the federal government, against institutions like the Catholic Church. It is real and it's fully understandable, given the shameful history that we are all becoming more and more aware of and engaging ourselves to do better as Canadians," said Trudeau.
Gerald Butts
Echoing the prime minister's remarks, former principal secretary to Trudeau, Gerald Butt, stated that the ongoing church burning "may be understandable" in response to a tweet by journalist Terry Glavin.
NDP MP Niki Ashton
MP Niki Ashton celebrated the toppling of statues at Manitoba's legislature of Canada's Head of State Queen Elizabeth II and the late Queen Victoria. Ashton referenced the criminal acts as "decolonization" before tweeting a heart emoji.
Ryerson School of Journalism assistant professor Karyn Pugliese
Karyn Pugliese, who teaches journalism students at Ryerson University, appeared on CBC At Issue where she stated "tear it all down" when asked about what can be done to achieve reconciliation on university campuses. Pugliese made the comments several days before a statue of Egerton Ryerson was pulled down and defaced by radicals.
Radio host Nesta Matthews
In a deleted tweet, Nesta Matthews, who hosts a radio show on St. John's 97.3 The Wave, called for people to "burn the churches down" and to arrest staff at Catholic churches. Matthews later apologized for the tweet and claimed that she had let her anger "get the better" of her and that her post "was reckless and wrong."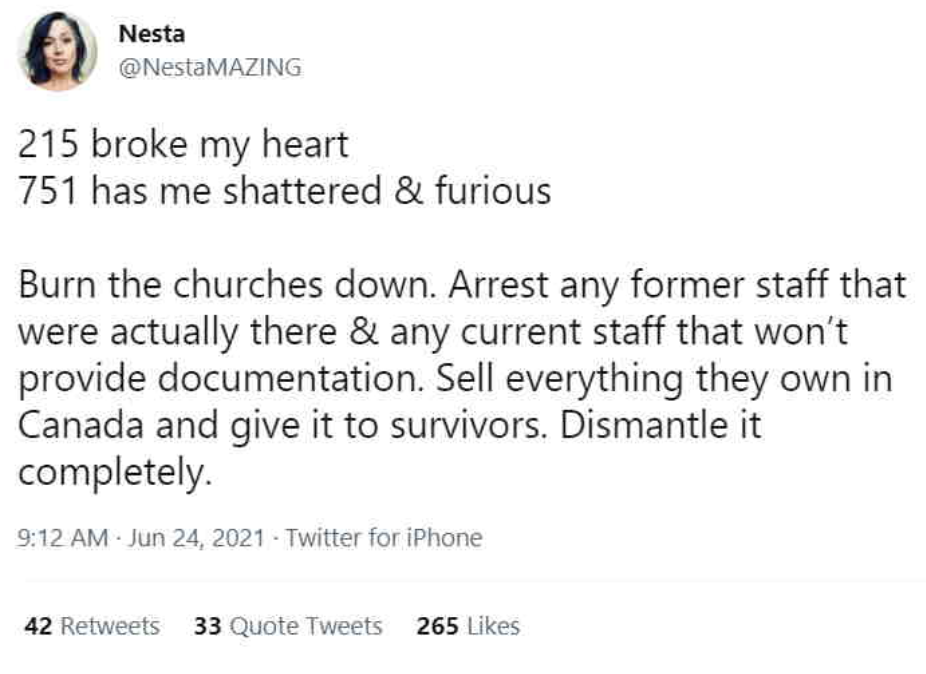 McGill University associate professor Debra Thompson
In a June 7 tweet referencing the recent London, Ontario vehicular attack and the Kamloops residential school announcement, Thompson mused how "it's truly a wonder we don't burn it all down."
Lawyer and Chair of the Newfoundland Canadian Bar Association Branch Caitlin Urquhart
On June 8, in response to Debra Thompson's tweet on the London, Ontario vehicular attack and the residential school announcement, Urquhart stated "burn it all down."
We're asking readers, like you, to make a contribution in support of True North's fact-based, independent journalism.
Unlike the mainstream media, True North isn't getting a government bailout. Instead, we depend on the generosity of Canadians like you.
How can a media outlet be trusted to remain neutral and fair if they're beneficiaries of a government handout? We don't think they can.
This is why independent media in Canada is more important than ever. If you're able, please make a tax-deductible donation to True North today. Thank you so much.