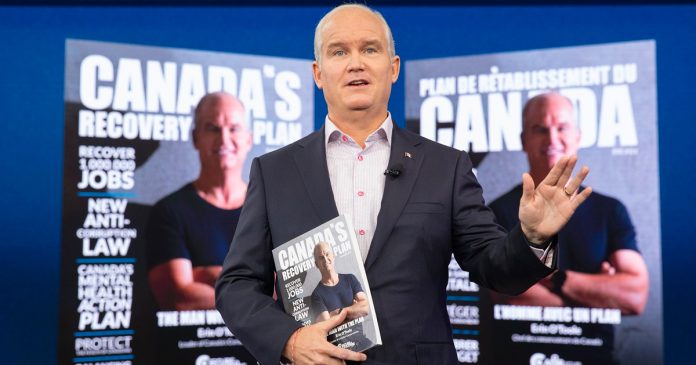 Conservative Party Leader Erin O'Toole revealed on Wednesday that he plans on reducing the federal deficit by 85% by 2025-2026 after releasing his costed platform, Canada's Recovery Plan.
According to a news release, the Conservative leader hopes to bring the deficit down from $354 billion to $168 billion this year with the eventual goal of reaching a deficit of $25 billion over the said time span.
As noted in the announcement, the estimates and outlook were based on the Parliamentary Budget Officer's (PBO) 2021 Election Platform Costing Baseline.
On August 16, 2021, the PBO launched a service to cost the 2021 election campaign platforms for all recognized parties.
"With the only shrinking economy in the G7, Justin Trudeau has nothing to show for running reckless deficits and spending more than all of the previous Canadian governments combined," said O'Toole.
"We cannot afford four more years of Justin Trudeau hiking taxes and saddling future generations with mountains of debt."
According to the platform costing, the Conservatives claim that no cuts will be needed because O'Toole would "run a disciplined government that limits the growth of future spending."
The Conservatives project that they would be well on the way toward a balanced budget within a decade and that they could return the country to economic balance in approximately 7 years.
In a breakdown of spending plans, the Conservatives will introduce $29.7 billion in new spending through to 2022 while shedding the deficit down to $138.2 billion. The following year, O'Toole plans to bring that deficit down to $42 billion while only spending $14.2 billion.
Despite the estimates, the Conservatives claim that growth will actually be higher than expected due to their $7.6 billion Canada Job Surge Plan which will introduce 180,000 jobs to the economy, along with its plan to implement regulatory reform which would boost Canada's GDP by 1% over five years, among other measures.
Additionally, the Conservatives claimed that the Liberal platform was underpriced and could bring Canada's deficit to grow by over $150 billion a year reaching an unmanageable $1.8 trillion.
According to statistics, Canada's economy contracted by 1.1% in the second quarter of this year despite other G7 nations like the US and the UK having their economies growing.
In its Fiscal Sustainability Report in July, the PBO warned that the federal government will not return to a balanced budget until 2070 unless spending was curbed.
We're asking readers, like you, to make a contribution in support of True North's fact-based, independent journalism.
Unlike the mainstream media, True North isn't getting a government bailout. Instead, we depend on the generosity of Canadians like you.
How can a media outlet be trusted to remain neutral and fair if they're beneficiaries of a government handout? We don't think they can.
This is why independent media in Canada is more important than ever. If you're able, please make a tax-deductible donation to True North today. Thank you so much.