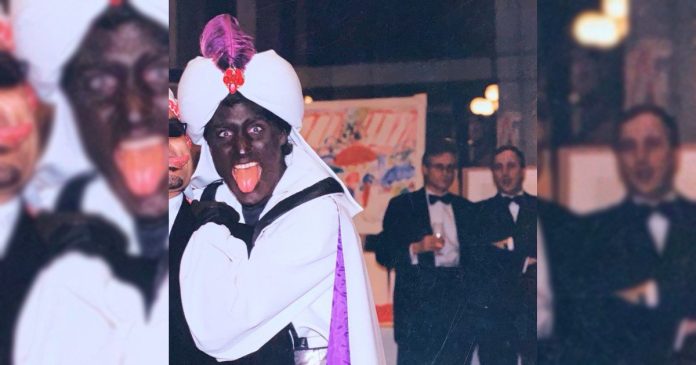 A previously unseen photograph of Liberal Party Leader Justin Trudeau in blackface makeup and costume has emerged one day before Canadians head to the polls for the 2021 election.
On Sunday, the third party group Canada Proud published the photo featuring Trudeau embracing another individual while dressed in an Arabic themed outfit.
According to reports, the photograph dates back to a 2001 Arabian Nights event while Trudeau taught at a BC private school.
Ahead of the 2019 election, a number of photos emerged of Trudeau in blackface. At least four photographs of Trudeau in various blackface dress exist.
When confronted about his penchant for dressing up in racist and stereotypical costumes, Trudeau apologized for his actions.
"Darkening your face, regardless of the context of the circumstances, is always unacceptable because of the racist history of blackface," Trudeau told reporters at the time.
Very few Canadian outlets covered the new blackface photos, however, several international media publications like The Spectator and The Daily Mail wrote feature articles on the incident.  
Throughout his mandate, Trudeau has presented himself as a progressive left-wing leader to Canadians but repeat scandals have damaged the credibility of his claims.
Recently, the Liberal Party Leader has had to confront numerous sexual harassment allegations levelled against Liberal candidates.
One Toronto-area candidate, Kevin Vuong, was forced to step down from his Liberal candidacy after it was revealed that Vuong was charged with sexual assault in the past. According to Vuong, the charges were later dropped.
Canadians are heading to the polls on Monday and while the polls indicate that Trudeau has a slight lead over Conservative Party Leader Erin O'Toole, the Liberals are not polling well enough to guarantee a majority government. 
We're asking readers, like you, to make a contribution in support of True North's fact-based, independent journalism.
Unlike the mainstream media, True North isn't getting a government bailout. Instead, we depend on the generosity of Canadians like you.
How can a media outlet be trusted to remain neutral and fair if they're beneficiaries of a government handout? We don't think they can.
This is why independent media in Canada is more important than ever. If you're able, please make a tax-deductible donation to True North today. Thank you so much.