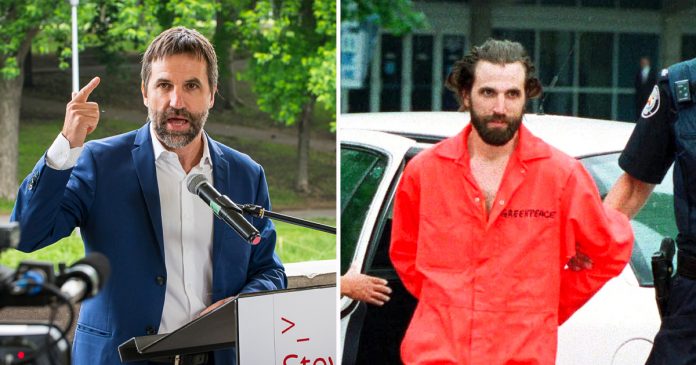 Liberal MP Steven Guilbeault was handed the environment portfolio on Tuesday as Prime Minister Justin Trudeau unveiled his new cabinet after retaining a minority government in this year's election.
Guilbeault, who formerly served as the minister of Canadian heritage, has a history of involvement in the radical environmental movement.
In 2001, while a part of the organization Greenpeace, Guilbeault was arrested by authorities after illegally scaling Toronto's CN Tower.
Guilbeault has recalled his past radical actions fondly and sympathized with recent environmental protesters but insisted that he now pursues his "political action differently" and calls himself a "radical pragmatist."
"I think in many ways… I'm still this guy who climbed the CN Tower," Guilbeault said in an interview with the National Post.
"But to me, civil disobedience was never a goal in and of itself. It was just a tool. And now I'm using different tools."
As Canada's new environment minister he is taking over the role from Liberal MP Jonathan Wilkinson, who was handed the natural resources ministry by Trudeau.
Guilbeault's first task will be to travel to Glasgow in the next few days to join global leaders at the United Nations climate change conference (COP26) alongside Trudeau.

While still the minister of Canadian heritage, Guilbeault gave several controversial interviews and made conflicting statements regarding the Liberal government's plan to censor the internet.
In 2020, Guilbeault proposed that the Liberal government would require media outlets in Canada to get a government license to operate.
Additionally, when facing criticism regarding the government's disastrous Bill C-10, Guilbeault labelled all opponents to the law "extremists." 
2021 has been True North's best year yet. Thanks to supporters like you, we had our best online fundraising month yet in August!
Now, we want to finish 2021 on the strongest note possible. Help us have our best fundraising month ever - donate today!