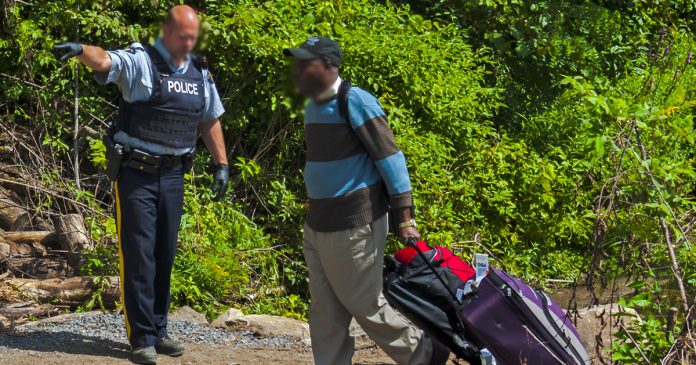 Prime Minister Justin Trudeau has reopened Roxham Road to illegal border crossers after the unauthorized point of entry was closed due to the COVID-19 pandemic.
According to CBC News, the ban, which has been in place since March 2020, was lifted by the Liberals on Sunday after citing improved public health outcomes. 
Those hoping to cross will now be able to enter Canada and have their asylum or refugee claims assessed by border officials.
Now that the ban is lifted, Canadians can expect an uptick in the number of asylum claimants seeking to enter Canada. 
In April, the Federal Court of Appeal ruled that the Canadian government could turn back asylum seekers from the United States and that it does not violate the Charter of Rights and Freedoms. 
In a unanimous ruling on the safe third country agreement, which outlines whether asylum claims can be made from the two neighbouring countries, a three-person panel of judges found the law constitutional.
"Those who arrive in the United States must claim refugee status in the United States under United States law. They cannot leave the United States and claim refugee status in Canada at a land port of entry. If they do so, Canada can refuse to consider their refugee claim and, if they have no other legal basis for remaining in Canada, return them to the United States," the ruling read.
According to the agreement, Canada can turn away asylum claimants who are arriving from the US.
The ruling granted a six-month extension to the agreement and a future court case is expected to settle its status. 
Statistics by the Immigration and Refugee Board of Canada reveal that Canada has taken in nearly 60,000 asylum claimants who have crossed at illegal border crossings since February 2017. 
We're asking readers, like you, to make a contribution in support of True North's fact-based, independent journalism.
Unlike the mainstream media, True North isn't getting a government bailout. Instead, we depend on the generosity of Canadians like you.
How can a media outlet be trusted to remain neutral and fair if they're beneficiaries of a government handout? We don't think they can.
This is why independent media in Canada is more important than ever. If you're able, please make a tax-deductible donation to True North today. Thank you so much.