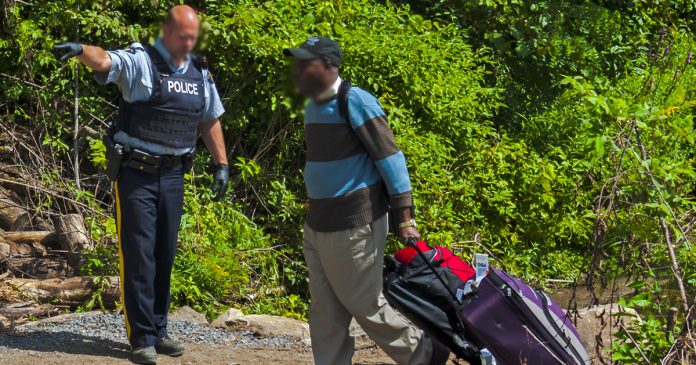 COVID-19 travel restrictions led to a huge drop in illegal border crossings last year, Canadian Border Services Agency (CBSA) data shows.
According to CBSA numbers, illegal border crossings into Canada dropped by 63% in 2019-2020. Data also showed that the year 2020 had the lowest number of claims since 2016.
True North was shown the CBSA Targeting Directorate: Refugee Claims Analysis Report (RCAR) 2020 (January to December) by immigration lawyer Richard Kurland. The report originally appeared in Lexbase, a monthly publication of Kurland's law firm Kurland, Tobe.
In November, Prime Minister Justin Trudeau re-opened illegal border crossings including Roxham Road to refugee and asylum claimants after nearly a year-and-a-half of inoperation.
A moratorium on crossings had been in place since March 2020. In his decision to reopen the site, Trudeau cited an improved public health situation. 
As exclusively reported by True North, while CBSA officials are screening for COVID-19, unvaccinated migrants are being allowed to enter Canada "regardless of their vaccination status."
"Refugee claimants are requested to show proof of vaccination if they have been vaccinated," CBSA spokesperson Sandra Boudreau told True North. "Unvaccinated individuals will be permitted to enter if making an asylum claim but will be required to follow all COVID-19 public health obligations, including all testing requirements. If they are not fully vaccinated against COVID-19, they should have a 14-day quarantine plan."
"Throughout the pandemic, regardless of their vaccination status, Canada continued to accept asylum claims made by people who were already inside Canada."
Although both Ontario and Quebec have been put under lockdown due to the severity of COVID-19 case counts, the Trudeau government has not closed Roxham Road again.
CBSA statistics show that following the decision to close the illegal border crossing in 2020, the number of crossings fell dramatically from 3,500 in March to only 360 in April-June.