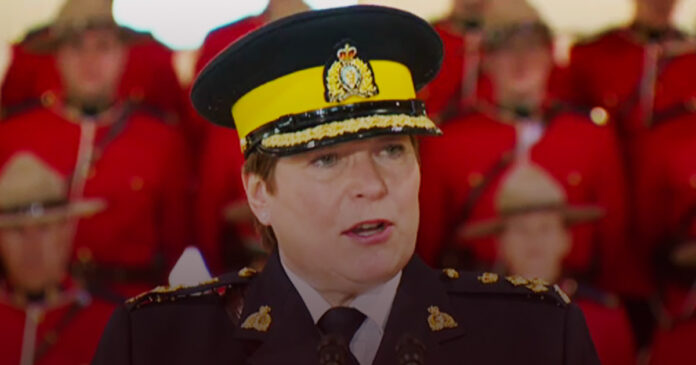 RCMP commissioner Brenda Lucki urged Canadians to report suspicious Internet behaviour, including comments by people who express "anti-government, anti-law enforcement" opinions.
The commissioner's statement was obtained Monday by Blacklock's Reporter.
"When in doubt, report it," said Lucki. "It's easy to overlook the seemingly ordinary moments that make up our days."
The RCMP issued a guide called "Reporting Suspicious Incidents to Police" on Monday that encouraged Internet users to watch out for people with suspicious politics or "anti-authority" views that "include anti-government, anti-law enforcement and anarchist" opinions or "grievance-driven ideologies."
"This category can encompass new and emerging ideologically motivated threats such as environment, animal rights, etc.," said the guide. "The goal of the initiative is to enhance the quality of information being shared with police and to encourage the reporting of suspicious incidents and activities." 
The guide went on to advise that some people hold social or political beliefs that might be "considered extreme or outside mainstream ideologies." It said while some ideas might be concerning to people, the police should become involved "when a person uses or actively supports violence to achieve ideological, religious or political goals."
The RCMP added that law enforcement "has no role in policing the thoughts of Canadians."
Despite this position, the federal police force openly endorsed Bill C-36, which would have brought in $70,000 fines or house arrest for Internet users suspected of making legal but offensive posts "that involve detestation or vilification" of identifiable groups. Bill C-36 was introduced in June but died in Parliament with the calling of 2021 federal election.
"Law enforcement has to have the ability to use the law effectively," RCMP Corporal Anthony Statham told a webinar sponsored by the Canadian Anti-Hate Network in July. "In Canada, we don't have anything regulating speech."
According to Statham, Bill C-36 was "a very good thing" because it would allow police officers to "see more things through to charges." 
We're asking readers, like you, to make a contribution in support of True North's fact-based, independent journalism.
Unlike the mainstream media, True North isn't getting a government bailout. Instead, we depend on the generosity of Canadians like you.
How can a media outlet be trusted to remain neutral and fair if they're beneficiaries of a government handout? We don't think they can.
This is why independent media in Canada is more important than ever. If you're able, please make a tax-deductible donation to True North today. Thank you so much.