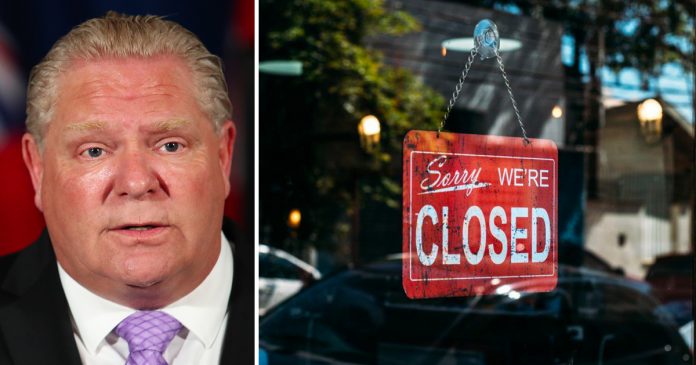 Staying afloat in one of the most locked down places in North America is a battle Ontario business owners know all too well.
Determined to keep her indoor pizzeria in Toronto going, Celina Blanchard decided she needed to be creative and pivot. After three lockdowns by the province on restaurant facilities, the Lambretta Pizzeria owner said she's much "better prepared."
"I've been through this before," she said.
So in mid-December when sales started plummeting, she opened a new takeout and delivery service in another location. This was only a few days after Premier Doug Ford had locked down Ontario for the third time.
"I just knew that I had to find a Plan B because indoor dining is not going to work right now," she said. "Takeout and delivery is the way to go."
Over the course of the nearly 18 months that I've followed Blanchard's fortunes, I've witnessed her fight her landlord for rent relief during the first lockdown (he finally agreed) and pressure the city last summer to get a Cafe licence in a timely manner.
"I've been quite vocal," she said.
She added that last summer was great and everyone enjoyed her outdoor patio.
"We saw the energy patios provided to everyone," she says.
But then the weather turned colder, the patios were gone and the government started pushing the vaccination passports as a condition of dining indoors. Most people followed the rules on the passports, but some decided just to order take out to avoid issues at the door.
She thought Christmas was going to be better because a lot of Christmas parties were booked. But when Omicron hit, people called and cancelled, she said.
"All of these things came into play," Blanchard said. "It's been quite challenging."
All in all her business was down 75% in 2021, But it could have been worse had she not had the benefit of the summer patio season, she says.
Joel Gelfand's small business isn't far away.
Gelfand owns House of Combat, a martial arts and self-defense studio, in the north part of Toronto. He was "hardest hit" when he was forced to close his facility for the first time. At that point he didn't qualify for government assistance, he says, so it was a "real tense time."
He wonders why, during a pandemic, the government would allow LCBO and cannabis stores to remain open when gyms and studios like his are a great outlet for kids with anxiety.
"The government is not promoting a healthy lifestyle and mental health," he said.
After a really slow opening, they were able to conduct socially distanced training outside during the summer of 2020. When they reopened after the second lockdown during the winter of last year, they had a "nice streak" all summer.
He says that during the lockdowns, he's tried to transfer to Zoom classes but that has required readjusting his physical technique – which really requires hands-on demonstrations.
"I enjoy my job but it's trying," said the father of two young boys. "It really hurts."
Julie Kwiecinski, director of Ontario affairs for the Canadian Federation of Independent Business (CFIB), says a recent survey showed that only 35% of their members are at normal revenues and 18.5% are actively considering bankruptcy.
She says the average COVID debt among their 38,000 members is $190,000.
Kwiecinski added that small business owners are "extremely cynical" about being permitted to open when the three-week lockdown is supposed to end on Jan. 27.
"They've heard this story before," she said.
She has a point.
Ontario has consistently lagged behind every other province when it comes to allowing restaurants to open to indoor dining and services like hairdressers and nail salons to operate at full capacity.
Doug Ford has given no indication of his plans for when the latest lockdown ends on Jan. 27.
As Kwiecinski says, every day the clock ticks with businesses left hanging is another nail in the coffin for those barely hanging on.
It's not fair and it's not right.