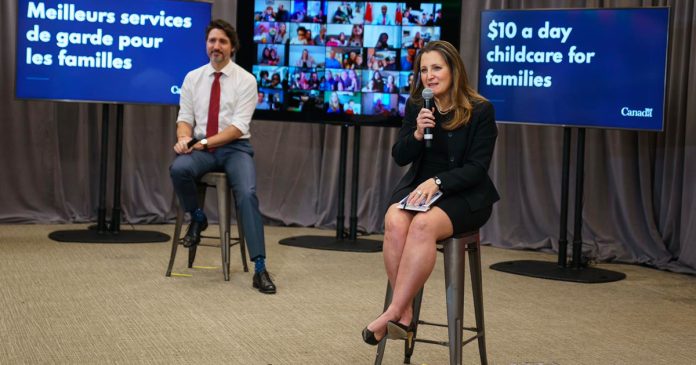 Canada's independent federal budget officer is telling the Trudeau government to rein in its out-of-control spending.
According to Blacklock's Reporter, the Parliamentary Budget Office (PBO) noted that the government spent half a trillion dollars since COVID-19 began, including billions of dollars that had nothing to do with the pandemic.
In its report titled Economic And Fiscal Update 2021: Issues For Parliamentarians, the PBO found that $69.2 billion went towards programs unrelated to COVID. These included $49.9 billion on Prime Minister Justin Trudeau's plan to "build back better," $24.2 billion in compensation to First Nations kids and $33.3 billion on other policies.
"Since the start of the Covid-19 pandemic the government has spent, or planned to spend, $541.8 billion in new measures. There is an upside risk to the deficit," read the report.
The PBO researchers observed that any rationale the government may once have had for its spending seems to have fallen by the wayside.
"The government's previously identified fiscal guard rails and their benchmarking would suggest 'stimulus' spending should be wound down by the end of the 2022 fiscal year," the report reads. "Thus it appears the policy rationale for additional spending over 2022 to 2024 that was initially set aside as stimulus spending has changed."
Yesterday Trudeau was questioned by reporters about whether uncontrolled spending was actually hurting the economy rather than improving it.
The prime minister avoided a straightforward response.
"We are continuing to work to support Canadians through this challenge," said Trudeau.
Canadian Taxpayers Federation federal director Franco Terrazzano has called out Trudeau for reckless spending on numerous occasions.
"Years of borrowing means taxpayers will lose out on nearly $200 billion by 2027 just to pay for interest charges on Canada's debt," he said earlier this month. "That's money we can't use to hire more nurses or lower taxes because it's going to bond fund managers to service the government's debt."
A recent Fraser Institute report has found that out of the world's 35 most advanced economies, Canada has ranked as the sixth most miserable to live in.
The ranking is driven by higher inflation rates and growing unemployment.
"Canadians are rightly concerned about the country's high inflation and unemployment rates, and when compared to other developed countries, Canada is not doing well," said Fraser Institute executive vice-president and report co-author Jason Clements.
Just this week, Canada's inflation rate rose to 4.8% which is a new 30-year high.
Conservative Finance critic Pierre Poilievre has been outspoken about the Liberal government's responsibility when it comes to making life more unaffordable in Canada.
"The biggest increases for consumer products have been those that we source right here at home, not those that depend on foreign supply chains," said Poilievre.
"Home price inflation is a home-grown problem… The more (Trudeau) spends, the more things cost." 
We're asking readers, like you, to make a contribution in support of True North's fact-based, independent journalism.
Unlike the mainstream media, True North isn't getting a government bailout. Instead, we depend on the generosity of Canadians like you.
How can a media outlet be trusted to remain neutral and fair if they're beneficiaries of a government handout? We don't think they can.
This is why independent media in Canada is more important than ever. If you're able, please make a tax-deductible donation to True North today. Thank you so much.