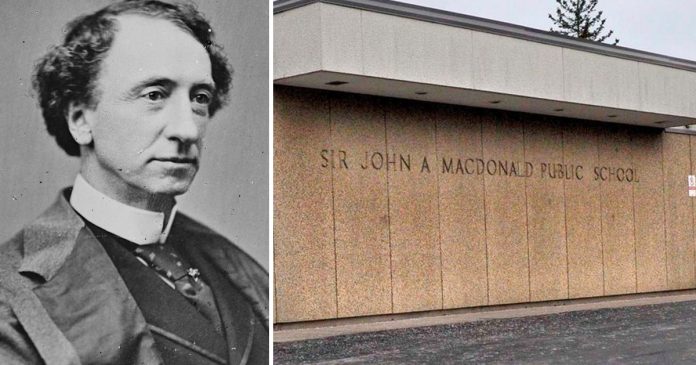 Amid a global pandemic and the highest inflation rates in more than two decades, it's nice to know the Durham District School Board hasn't lost sight of the real issue – erasing Canadian history.
Last week, the school district's trustees voted 7-1 to expunge the name of Canada's first Prime Minister, and father of Confederation, from the walls of Pickering's Sir John A. Macdonald Public School.
It's a change they expect to cost taxpayers as much as $35,000.
And it's not as if this action was one being demanded by angry residents.
In fact, a survey used to gather feedback from the community (which included responses from 917 individuals) showed 68.7% of respondents believed the school's name should remain unchanged.
It follows a trend in Canada where statues and monuments to the man who built this country have been torn down and his public memory erased, all for his alleged crimes against Indigenous Canadians more than 130 years ago.
One key problem – many of the claims about Sir John. A's legacy simply aren't accurate, and they don't take into account the many forward-thinking and beneficial policies he brought into place.
Far from repressing Indigenous Canadians, in 1885 he became the first Prime Minister to extend to many the right to vote.
This decision was decried by Liberal Members of Parliament at the time and later repealed in 1898 by Liberal Prime Minister Wilfrid Laurier.
Equally misrepresentative are the claims that Macdonald was responsible for "starving" First Nations across the Canadian Prairies.
In reality, Macdonald engaged in the largest aid operation in Canadian history (again despite the opposition of Liberal MPs) following the overhunting (and disappearance) of the buffalo – with which Macdonald had nothing to do.
As for Residential Schools, which he is often accused of introducing – they existed long before Macdonald was Prime Minister, and attendance remained voluntary until years after his death.
The truth is that Macdonald, like any of us, wasn't perfect. And, like anyone, he was a product of his time.
But what he accomplished is simply unparalleled in Canadian history – and without him, the country likely wouldn't exist.
He was the driving force behind confederation in 1867, enticed British Columbia to join not long after and tied the country together, from sea to sea, with our very own ribbon of steel – the Canadian Pacific Railway.
All this he accomplished under the watchful eye of an expansionist United States.
Along the way, he granted black Canadians the right to vote and became an early proponent of voting rights for women.
To his friend Peter Jones, a Mississauga Ojibwa chief, he would write, "I hope to see some day the Indian race represented by one of themselves on the floor of the House of Commons."
Far from being the racist caricature that he is now portrayed as, Macdonald was a man ahead of his time – the rare statesman whose actions, when examined closely, appear even more impressive than when examined from afar.
And while his accomplishments were many, his most impressive, quite simply, is creating the country we now call home – creating Canada. 
And as long as that's worth celebrating, Sir John A. is worth celebrating too.
Aaron Gunn is a conservative commentator and documentary filmmaker. He has amassed over 100,000 followers on social media and is host of the online series Politics Explained.