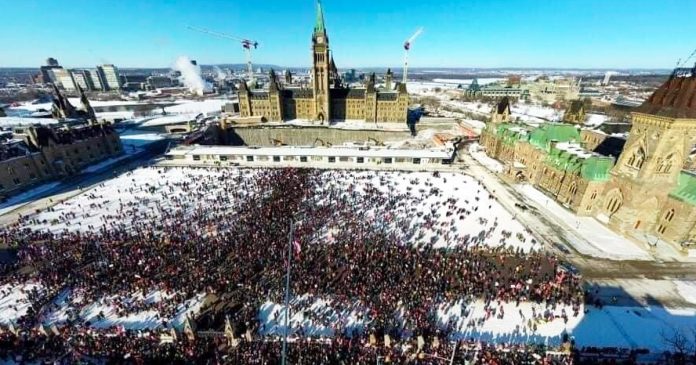 Ottawa Police have reported zero arrests at the Freedom Convoy and Rally on Parliament Hill this weekend, this despite Justin Trudeau and several journalists warning that the protests would be violent and even suggesting that the truckers were domestic terrorists.
Tens of thousands of demonstrators exercised their democratic rights by protesting government overreach and demanding their freedoms back.
"Large crowds remained in the downtown core throughout the night and were actively managed by police," read a statement issued by the Ottawa Police Service Sunday morning at 8:00 am.
"Officers encountered several challenges with demonstrators, including sporadic road blockages by trucks, which officers worked to clear."
"These high-risk situations were de-escalated and resolved with no arrests."
A subsequent statement issued on Sunday evening at 7:30pm stated that police had dealt with some "disruptive, inappropriate and threatening behaviour from demonstrators" but did not mention any arrests.
"Throughout the weekend, the Ottawa Police Service and its partners have been actively and patiently managing a well-funded, major demonstration in the downtown core," read the statement released Sunday evening.
This peaceful protest was described by True North's Andrew Lawton as a "huge block party."
National Post columnist Rupa Subramanya described it as a "winter festival."
She also retweeted a user who called the event "positive, peaceful and passionate."
Rebel News reporter Dakota Christenson spoke to a police officer, describing him as "supportive and peaceful."
With tens of thousands of protesters gathering on Parliament Hill, Liberal politicians and legacy media journalists alike had predicted violence.
"Trudeau concerned trucker convoy converging on Parliament Hill could turn violent," read a headline from CTV News on Friday afternoon.
"Prime Minister Justin Trudeau says he's concerned about the potential for violence during this weekend's planned protest on Parliament Hill," read the article, which came from the news wire service the Canadian Press and runs in newspapers and on news websites across the country.
"Of course I'm concerned," Trudeau said in an interview Friday.
Countless other journalists parroted Trudeau's warnings, predicting that the protests would turn violent.
Trudeau's state broadcaster, the CBC, described it as "a raucous demonstration that has police on high alert for possible violence even as organizers urge the crowd to be peaceful."
Despite dozens of media reports predicting violence and accusing the organizers of using "violent language," the weekend turned out to be peaceful and arrest-free.
This runs counter to several of the large and high profile protests that have turned into riots over the years in Ottawa.
In November 2020, a "Black and Indigenous Lives Matter" protest digressed into violence and resulted in a dozen people being arrested and charged with mischief. In response, the organizers insisted they "didn't do anything wrong."
In a recent news report that was widely mocked and debunked, Global News tried to portray the Freedom Convoy as "Canada's January 6th."
On Friday, Ottawa police dismissed this idea as "absurd."
Some journalists, however, continue to insist the Freedom Convoy is an "invasion" and suggest the protesters may try to breach the Parliament Buildings.
Back in 2016, an anti-pipeline protest-turned-riot did just that. Scores of rioters breached a fence and attempted to swarm the Centre Block building. According to news reports at the time, "99 people were arrested… and later charged under the Trespass to Property Act of Ontario."