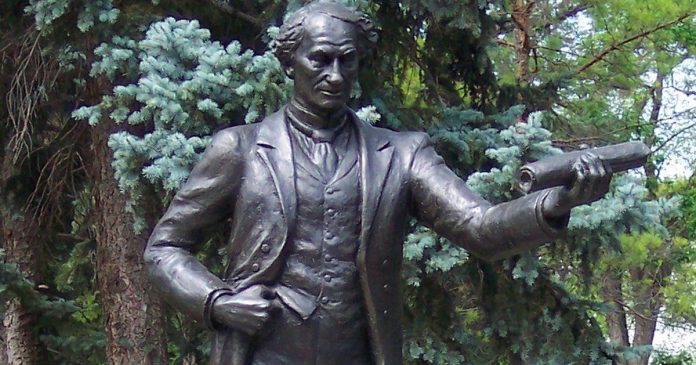 The Trudeau government has committed itself to purging or rewriting hundreds of historical plaques and monuments commemorating Canadian history in a revisionist attempt to "decolonize" the country.
According to Blacklock's Reporter, this means that a tenth of federal historical landmarks erected since 1919 are going to be revised or completely removed.
The purges will include "major political figures" like Canada's first prime minister Sir. John A. Macdonald, those "associated with Residential School history" and anybody "associated with the eugenics movement."
"The designations and plaques which require review have been assessed as relating to four issues: colonial legacy, absence or erasure of a significant layer of history, outdated or offensive terminology and controversial beliefs and behaviours," the briefing entitled Review Of Designations: National Program Of Historical Commemoration reads. 
A total of 205 plaques and monuments have been placed on a blacklist for removal based solely on "public requests" or controversies. Additionally "subjects identified as urgent by Indigenous consultants" will also be destroyed.
"Nothing can be immune from review. Every designation can be re-evaluated," wrote federal staff.
On a comparable note, Parks Canada recently removed references to Pocahantas from signage at an Alberta forest.
"Parks Canada is committed to a system of national heritage places that recognizes and honours the historical and contemporary contributions of Indigenous peoples, their histories and cultures," said Parks Canada.
"Taking the time to properly rename these sites is one small step towards truth and reconciliation in Canada. As a group, we encourage Canadians and international visitors to educate themselves on Canada's brutal history towards Indigenous people."
Additionally, In Victoria, BC, a statue of Capt. James Cook which was toppled and broken in January 2021 by far-left protestors will not be returning to the city's Inner Harbour Causeway.
"Decolonization" is a far-left practice popular among adherents of critical race theory and other so-called anti-racism viewpoints which have infiltrated governments of all levels.
According to academic publications cited by the University of British Columbia, decolonization "sets out to change the order of the world (and) is, obviously, a program of complete disorder."
We're asking readers, like you, to make a contribution in support of True North's fact-based, independent journalism.
Unlike the mainstream media, True North isn't getting a government bailout. Instead, we depend on the generosity of Canadians like you.
How can a media outlet be trusted to remain neutral and fair if they're beneficiaries of a government handout? We don't think they can.
This is why independent media in Canada is more important than ever. If you're able, please make a tax-deductible donation to True North today. Thank you so much.