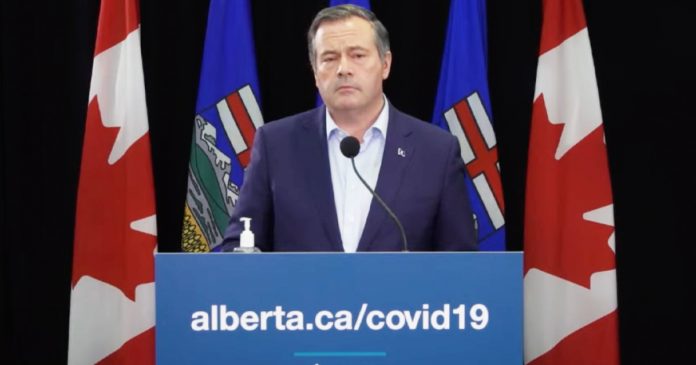 Facing a possible revolt in his own caucus and a stand-off with dozens of farmers and truckers blockading the Coutts border crossing, Alberta Premier Jason Kenney announced Friday that he would be cancelling Alberta's version of the vaccine passport – eventually, and with strings attached.
"Early next week, the COVID cabinet committee will approve a plan for the careful lifting of public health measures beginning with the Restriction Exemption Program," Kenney said in a video posted online.
Kenney said a firm date for the suspension of the Restriction Exemption Program (REP) would be announced "early next week" and that a plan to stop almost all public health measures against COVID-19 would be announced later this month – but only "as long as we see a trend of declining pressure on our hospitals."
Kenney added that the COVID shots and mandates had been "very effective at limiting transmission and infection" of earlier variants of COVID-19 and that the REP had been a success.
"We introduced this proof of vaccination program reluctantly to avoid a catastrophe in our hospitals during the Delta wave in September when Alberta and Saskatchewan were hit hardest because we had the lowest level of vaccination in Canada. When the REP was introduced, vaccines were still very effective at limiting transmission and infection."
"The REP also led to a major increase in Alberta's vaccination rates, which honestly has saved many lives and helped us to avoid cancelling thousands more surgeries during both the Delta and Omicron waves, so, the Restriction Exemption Program has done its job," Kenney said.
But, Kenney said, the shots were waning in their efficacy partly because some Albertans hadn't gotten a booster shot.
"Most Albertans got their last vaccine shot – typically their second shot – last summer, and they have not yet received the more recently available booster shots. Let me be clear – vaccines are still tremendously powerful at preventing severe outcomes like hospitalization and death,"
Kenney defended his vaccine passport program system, saying that it only applied to discretionary events and not to essential work such as trucking.
"The REP applied to discretionary social activities which were higher risks of transmission. We did not apply it – we DID NOT apply it – to essential low risk work activities, like, well, for example, driving a truck. And the REP in Alberta has allowed for a negative test option for discretionary activities like going to a nightclub or a casino or an NHL game," Kenney said.
Kenney's announcement comes three days after Saskatchewan Premier Scott Moe announced that "government restrictions on your rights and freedoms will be ending and ending very soon."
To date, Moe and Kenney are the only premiers who have announced that ends are coming to their provinces' COVID restrictions.
A new poll by the Angus Reid Institute found that 54% of Canadians agreed or strongly agreed that restrictions should be ended and for people who are at risk to self-isolate. All regions except for Atlantic Canada reported majority support.
Protests opposing vaccine mandates and other restrictions continue in Ottawa, in addition to weekend protests planned for major cities across Canada. 
We're asking readers, like you, to make a contribution in support of True North's fact-based, independent journalism.
Unlike the mainstream media, True North isn't getting a government bailout. Instead, we depend on the generosity of Canadians like you.
How can a media outlet be trusted to remain neutral and fair if they're beneficiaries of a government handout? We don't think they can.
This is why independent media in Canada is more important than ever. If you're able, please make a tax-deductible donation to True North today. Thank you so much.