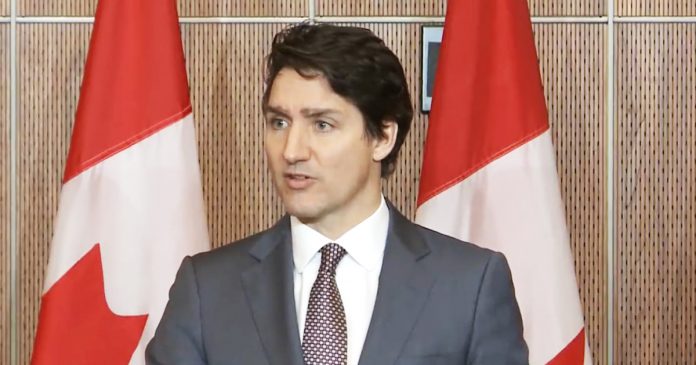 The NDP will ensure Justin Trudeau's Liberals stay in power until 2025, according to a deal reached by the two parties Monday.
Trudeau announced a "supply and confidence agreement" with the New Democratic Party Tuesday morning. The agreement will see the NDP support the government during confidence votes and budgetary matters in exchange for Liberal support of some key NDP initiatives.
Shared priorities under the arrangement include a new dental care program, expediting the elimination of public subsidies for fossil fuels and tax changes on financial institutions.
There will be no NDP members of parliament appointed to Trudeau's cabinet.
"Canadians need stability," Trudeau said of the deal. "We cannot allow our differences stand in the way of delivering what Canadians deserve."
According to a government press release, officials from the two parties will convene on a regular basis, with Trudeau and Singh meeting once every three months.
Conservative Leader Candice Bergen responded on Tuesday, claiming this unprecedented agreement is an "NDP-Liberal majority government."
"This is nothing more than a Justin Trudeau power grab. He is desperately clinging to power." Bergen said.
NDP Leader Jagmeet Singh defended the deal he made with Trudeau, claiming the new NDP-Liberal pact will "get help to people."
During a Tuesday morning press conference, Singh compared himself to previous NDP leaders Jack Layton and Tommy Douglas, and said the new pact will provide "stability" and "accountability."
The NDP leader assured Canadians that his party will still keep the Trudeau government accountable.
"I want to go into it with a spirit of hopeful optimism, but I will remain critical and we're going to remain an opposition party. We are going to remain forceful in getting help to people," he said.
"We're going into this eyes wide open. If they fall short … the deal doesn't continue."
We're asking readers, like you, to make a contribution in support of True North's fact-based, independent journalism.
Unlike the mainstream media, True North isn't getting a government bailout. Instead, we depend on the generosity of Canadians like you.
How can a media outlet be trusted to remain neutral and fair if they're beneficiaries of a government handout? We don't think they can.
This is why independent media in Canada is more important than ever. If you're able, please make a tax-deductible donation to True North today. Thank you so much.