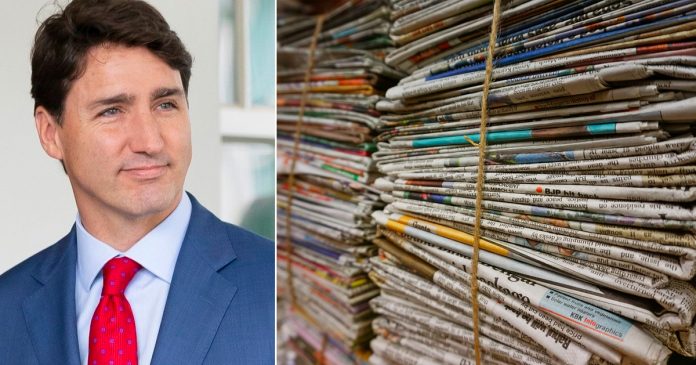 In another effort to save unprofitable legacy media from going under, the Trudeau government has tabled Bill C-18, a bill that would force "online communications platforms" to fork over ad revenue for news appearing on their feeds.
The legislation would exempt news corporations from the Competition Act and anti-trust laws, requiring social media platforms and search engines like Facebook and Google to pay news media from ad revenues generated by news content.
As reported by Blacklock's Reporter, the CBC would be the largest beneficiary of the bill, with ad revenue sharing based on existing market shares, and the state broadcaster having the largest share of digital news traffic of any Canadian news corporation. The CBC estimates in-house digital advertising revenues to be worth $54.8 million a year.
If Bill C-18 is passed, the government-run Canadian Radio-television and Telecommunications Commission (CRTC) would be granted the power to decide which media organizations qualify. These organizations will then be able to force 'online communication platforms' to negotiate a deal with them through a CRTC oversight board. 
The legacy media lobby group News Media Canada – which represents the Globe and Mail, Postmedia, the Toronto Star, Le Devoir and more – have pressured the Trudeau government to introduce the legislation in an effort to save many of the dying newspaper publications across Canada.
"We thank Pablo Rodriguez, Minister of Canadian Heritage, and his officials for working diligently and quickly to bring forward legislation that will ensure we have a fiercely independent and commercially viable news publishing sector, where local community news thrives alongside a vibrant open web," said Paul Deegan, president and CEO of News Media Canada.
The bill has been modelled after similar legislation made law in Australia, which has resulted in payouts of over $190 million, most of which benefitting that country's legacy outlets. 
Despite Google's strong opposition to the Australian version of the legislation, the law passed in 2021. 
One of the biggest winners from the passage of this legislation is sure to be the CBC and other legacy media organizations. "This legislation is an important step in ensuring fair compensation for news content produced by CBC/Radio-Canada and supported by Canadians," said Leon Mar, corporate spokesperson for CBC.
The bill's critics have been vocal about the legislation's threats to competition and freedom of the press, as well as its reliance on big tech to keep Canadian media afloat.
University of Ottawa law professor Michael Geist weighed problems with creating a 'shakedown subsidy' system in an Apr. 5 blog post, warning the bill minimizes press freedom.
"Establishing a cross-industry subsidy model premised on little more than one sector being more profitable than the other further embeds the reliance on big tech," said Geist.
Geist noted how the legislation compromises press freedoms and even how the lobbying process compels media organizations to give the government favourable coverage.
"I know of cases where opinion pieces have been spiked by mainstream media outlets because they criticized the previous Heritage Minister at a time when he was being actively lobbied on a potential media bill." 
Rodriguez claimed that since 2008, more than 450 media outlets have closed down, and one in three journalism jobs has disappeared. These losses, he said, come as a result of Canadians abandoning cable and subscription newspaper services and opting instead for getting their news from the internet.
Former chair of News Media Canada and New Brunswick billionaire Jamie Irving complained that Facebook and Google were not sharing enough of their ad revenue.
"Canada's news publishers are facing an existential threat with Google and Facebook now taking about 90 percent of online ad revenue," said Irving.
"Ad revenue was down 35 percent in 2020. More than forty newspapers have closed permanently since the start of the pandemic."
However, critics have pointed out that dozens of Canadian news organizations have been able to thrive online, and that the legislation is intended to insulate legacy media from competition.
"A policy that favours the legacy companies that have struggled to adapt to the online environment is an approach that will harm competition and make the transition to digital, independent media even more difficult," said Geist.
As of this article's publication, Bill C-18 is currently in second reading. 
We're asking readers, like you, to make a contribution in support of True North's fact-based, independent journalism.
Unlike the mainstream media, True North isn't getting a government bailout. Instead, we depend on the generosity of Canadians like you.
How can a media outlet be trusted to remain neutral and fair if they're beneficiaries of a government handout? We don't think they can.
This is why independent media in Canada is more important than ever. If you're able, please make a tax-deductible donation to True North today. Thank you so much.