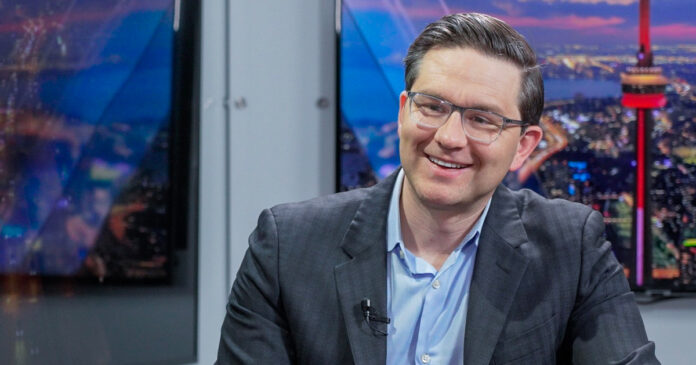 Conservative Party of Canada (CPC) leadership candidate Pierre Poilievre and his wife Ana answered some tough questions on the campaign trail this week about pharmaceutical companies and globalist organizations.
Flanked by Ana at a campaign stop in Ontario, Pierre promised that his government would boycott the World Economic Forum (WEF) after being approached by a handful of people asking him about any possible connections to the organization.
Pierre used the opportunity to deny affiliation with the group while taking a shot at People's Party of Canada leader Maxime Bernier.
"I'm against the World Economic Forum," Pierre said. "Unlike Maxime Bernier, I've never been to the Davos conference that the World Economic Forum puts on, and he'll have to explain why he went there and what he was doing there."
"But I did not go to that, and I would not, nor will any of my ministers."
"Have you spoken to Justin Trudeau about the amount of money he's making on these vaccines that he's forcing on us?" one woman asked. "I'm not accusing you, but I have heard that you have shares in that company."
Ana asked if she could answer and took the woman by the hand.
"Can I look you in the eyes when I say that – can I hold you by the hand and say that – I do not, darling, I really do not, and I am honest, and I am promising you."
Pierre's assertion was disputed by an onlooker who mentioned that WEF's website contained a photo and webpage of him.
Ana shot back, saying, "(h)is name was on the website, and we do not know why. We asked them why they put (his) name there. The only answer we got is that they published an article that he has published, but he has no affiliation."
Pierre has also denied any relationship with WEF in an interview with True North's Andrew Lawton in March.
"I've never been to Davos," Pierre said. "I've never been part of the organization, and I don't agree with its publicly stated policy objectives."
WEF is a non-profit organization that seeks to revolutionize the global economy by pursuing globalization through initiatives like the "Great Reset." They have infamously declared that, in the future, "we will own nothing and be happy."
WEF's annual conference in Davos, Switzerland has hosted some of the world's most influential people, including Nelson Mandela, George Soros, Bill Gates, Prince Charles and Prime Minister Justin Trudeau.
Pierre was also asked about a possible affiliation with Microsoft founder Bill Gates, including a picture Pierre had taken with him.
"He came to Parliament Hill in 2014 or '15, and I shook his hand, and I had a picture with him," Pierre explained.
The CPC leadership frontrunner was also asked for his feelings about pharmaceutical companies being immune from civil liability.
"I believe that every single company in Canada should be subject to the same liability in the court of law if anything they do causes harm to people – undue harm to people," Pierre answered.
"It doesn't matter if it's a construction company whose bridge collapses or if it's a pharmaceutical company whose medication doesn't work the way it was promised. So I think every company should have liability in a court of law, and judges should rule on those things."
We're asking readers, like you, to make a contribution in support of True North's fact-based, independent journalism.
Unlike the mainstream media, True North isn't getting a government bailout. Instead, we depend on the generosity of Canadians like you.
How can a media outlet be trusted to remain neutral and fair if they're beneficiaries of a government handout? We don't think they can.
This is why independent media in Canada is more important than ever. If you're able, please make a tax-deductible donation to True North today. Thank you so much.