Hymie Rubenstein is editor of The REAL Indian Residential Schools newsletter and a retired professor of anthropology, The University of Manitoba.
After decades of fruitless searches or spurious findings, the first named child being looked for by a named relative of the "15,000 to 25,000 … maybe even more" children said to be missing by Murray Sinclair, former Chair of the Truth and Reconciliation Commission of Canada, has likely been found according to the contents of a recent CBC story.
His name is Thomas Nepinak and he was 11 years old when he died, as shown by his name at the bottom of the National Centre for Truth and Reconciliation's (NCTR) Memorial Register list for his Pine Creek Indian Residential School and by his province of Manitoba death record, condensed as follows:

REGISTRATION NUMBER: 1944-054005
DECEASED DETAILS
Last Name: NEPINAK
Given Names: THOMAS
Sex: MALE
Date of Death: 11/01/1944
PLACE OF DEATH DETAILS
Place of Death: PINE CREEK RESERVE
USUAL RESIDENCE: PINE CREEK
Province: MANITOBA
BIRTH DETAILS
Date of Birth: 12/05/1932
Age At Death: 11
Place of Birth: PINE CREEK RESERVE
Province: MANITOBA
PARENT'S DETAILS
FATHER'S Last Name: NEPINAK
Given Names: CHARLES
Place of Birth: PINE CREEK RESERVE
MOTHER'S Maiden Last Name: CHARTRAND
Given Names: BERNADETTE
Place of Birth: PINE CREEK RESERVE
The May 11 CBC story is mainly about yet another ground penetrating radar (GPR) study, this time searching for "unmarked graves" on the site of the former Pine Creek Residential School which began on Monday with a ceremony including a sacred fire, drumming, and pronouncements by reserve elders.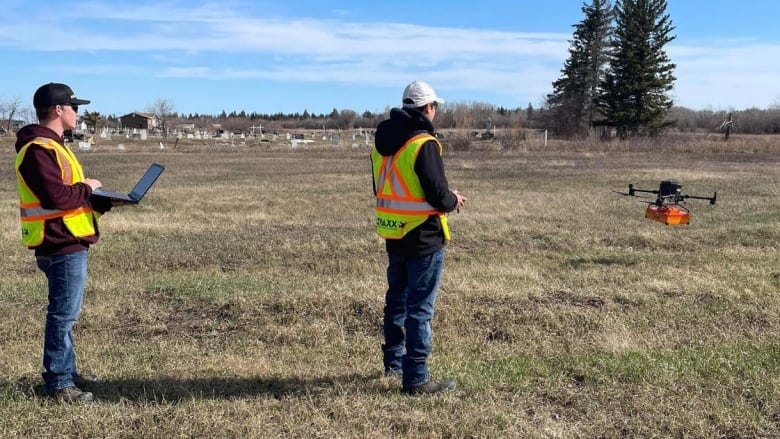 The Catholic-run residential school on the Pine Creek reserve, about 440 kilometres northwest of Winnipeg, was built in the 1890s and closed in 1969. The building was demolished in 1972.
Chief Derek Nepinak, a possible descendant of Thomas, said the process is a difficult but necessary one:
"We feel that the truth of our community has to be identified, and it has to be told by us, by our own people …. Our young people deserve to know the true history of who we are and our relationship with the Catholic church …. It's not all roses. It's been difficult and traumatic, and it's the truth."
Unmentioned in the CBC story is the fact that the "missing children" discovered by the inconclusive technique called ground penetrating radar all across the country since the end of May 2021 have no names attached to them, so they can hardly be called "missing." In particular, how can thousands of nameless children be listed as missing and not have named parents or relatives frantically looking for them? Except possibly this one.
The boy's missing status was reported to the CBC by a probable distant relative, Jennifer Rocchio, who said he was a student at the Pine Creek reserve's Indian Residential School:
"His name is Thomas and he was 11…. He never came home from residential school, so everyone is looking forward to hopefully getting his remains so they can do a proper burial for him."
Rocchio said Thomas had gotten into a fight with students at the school and died a couple of days later. It is likely that his cause of death was blunt force trauma or other violent injury. Since the reserve has always had its own community cemetery, is almost certain that he was interred there in a grave whose wooden cross has long disintegrated and never replaced by indifferent family members. If true, he has already had "a proper burial," as have thousands of his "missing" peers.
Why his descendants are relying on archaic spiritual practices and Indigenous "knowings" to determine his fate instead of searching for his death records located in the archives is troubling.
Why an allegedly sovereign "First Nation" has hired a pricey GPR company with public monies to do a crude surface investigation before digging into the archives at no expense to determine the fate of the 21 "missing" children on the Pine Creek NCTR Memorial Register is even more troubling.
Hymie Rubenstein is a retired professor of anthropology at the University of Manitoba, Winnipeg, Canada who is now engaged in debunking the myths about Canada's Indian Residential Schools.
We're asking readers, like you, to make a contribution in support of True North's fact-based, independent journalism.
Unlike the mainstream media, True North isn't getting a government bailout. Instead, we depend on the generosity of Canadians like you.
How can a media outlet be trusted to remain neutral and fair if they're beneficiaries of a government handout? We don't think they can.
This is why independent media in Canada is more important than ever. If you're able, please make a tax-deductible donation to True North today. Thank you so much.