Scotiabank has apologized for the "frustration and inconvenience" of having frozen the bank accounts of clients connected to the Freedom Convoy, according to emails posted on convoy co-organizer Benjamin Dichter's substack.
"Please accept our sincere apologies for the frustration and inconvenience this situation may have caused and thank you for your patience while we prepared our response," reads the letter, which appears to have been from the office of Scotiabank's president and CEO Brian Porter.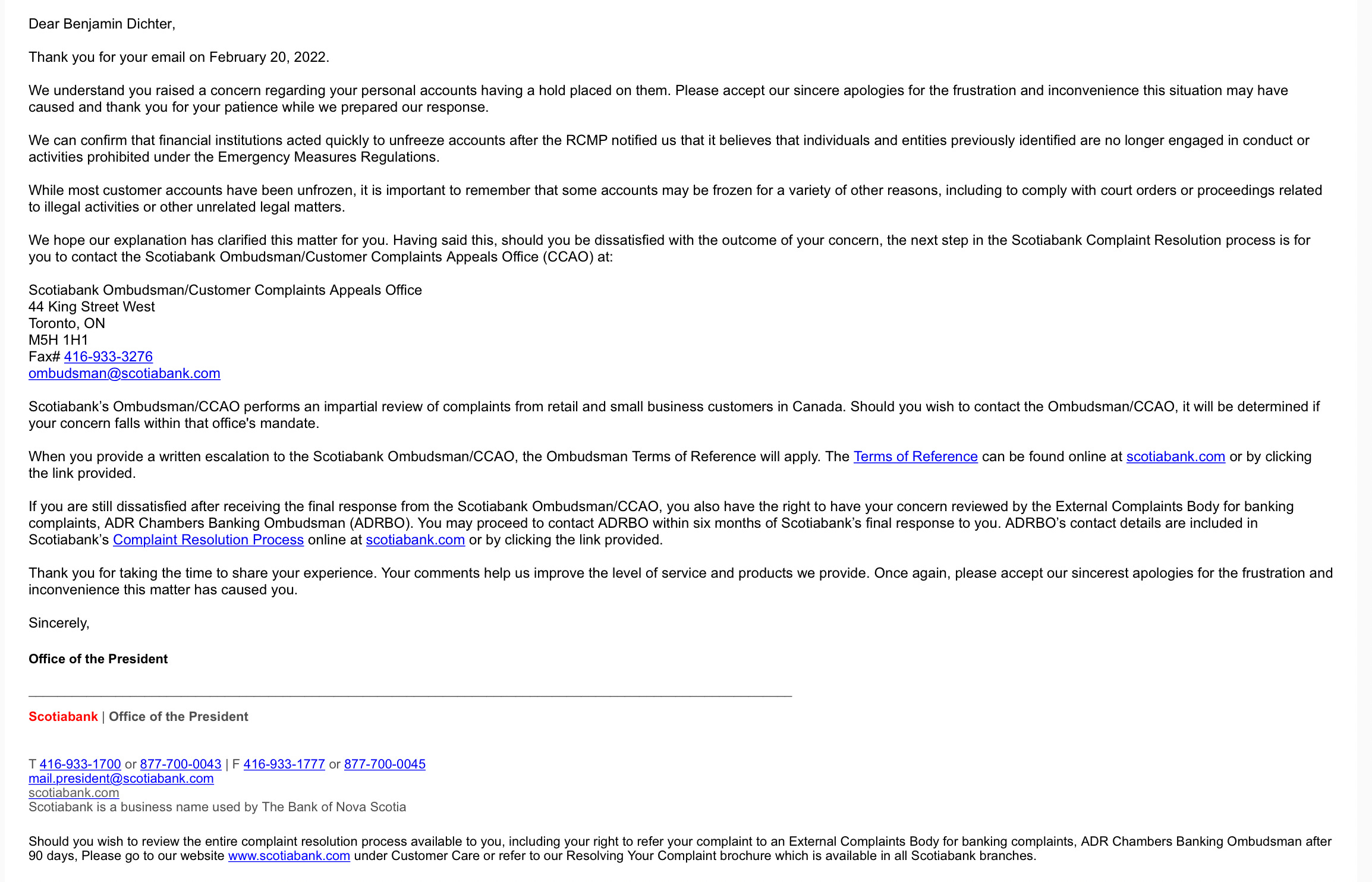 "I don't believe the banks went out of their way to target clients." Dichter said. "I believe it came from somewhere else. They didn't do it on their own accord."
"My interpretation of their response is, 'we do not want to do this. As soon as they allowed us to give you access to your account, we did so immediately. It wasn't our choice.'"
Dichter also appeared on the Andrew Lawton Show on Monday to discuss the apology.
The email suggests that banks were in direct communication with the RCMP after the Trudeau government implemented the Emergencies Act on Feb. 14.
"We can confirm that financial institutions acted quickly to unfreeze accounts after the RCMP notified us that it believes that individuals and entities previously identified are no longer engaged in conduct or activities prohibited under the Emergency Measures Regulations."
"While most customer accounts have been unfrozen, it is important to remember that some accounts may be frozen for a variety of other reasons, including to comply with court orders or proceedings related to illegal activities or other unrelated legal matters."
The email did not state how many accounts are still frozen. 
In February, banks across Canada – including Scotiabank – froze Canadians' accounts to the sum of nearly $8 million after the Trudeau government invoked the Emergencies Act to crack down on the Freedom Convoy's financial support.
Assistant deputy finance minister Isabelle Jacques said, "(t)o my knowledge it is over 206 accounts and the total value – was approximately $7.8 million. We know those accounts are personal and commercial accounts. It's a mixture of the two."
The Trudeau government, the RCMP and Ottawa Police have all offered contradictory accounts of whether local law enforcement requested the implementation of the Emergencies Act and are now facing severe scrutiny for their adoption and use of its sweeping powers.
Under the Emergencies Act, banks did not require a warrant to seize funds, nor have they faced any legal consequences for doing so.
True North reached out to Scotiabank for comment but received no response by time of publication.