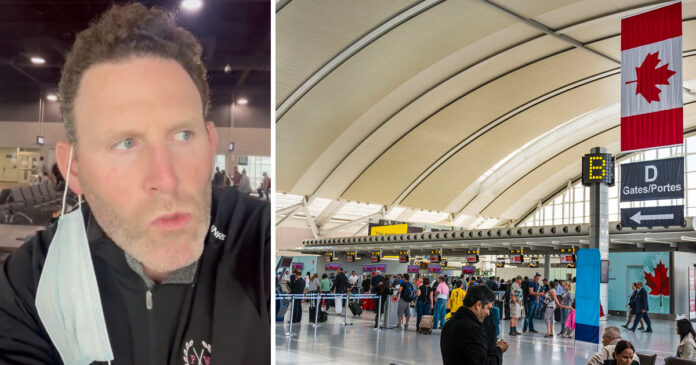 Former Pittsburgh Penguins defenceman Ryan Whitney has trashed the chaos at the Toronto Pearson International Airport after being left stranded by Air Canada while awaiting a flight to Buffalo.
In a viral video posted to Twitter, Whitney describes six hour-long line ups with 400 other people. The video has since been viewed by over one million users.

"I (flew from) Edmonton to Toronto yesterday – I landed around 3:00. I then had Toronto to Boston at 8:30. Customs was about three hours. Got through – flight cancelled from Toronto to Boston. At this point now, I go and I see there is a 400 person line with two Air Canada workers. There's a million cancelled flights," said Whitney.
"Everyone's just panicking so I wait in that line about six hours. Near the end of the line they close them. They just said 'you have to go somewhere else.' We had to re-enter Canada, we had to go to Canadian customs so by the time I finally see somebody from Air Canada it's 1:00 AM."
Whitney then attempted to leave after arranging a ride across the border but was told that his bags could not be retrieved and that he had to wait for a flight the next day.
"I said, 'Can I just get my bags?' I had a ride to Buffalo all set up and I had a jet flight from Buffalo. I need to get out of this country, out of this airport. This is the worst airport on Earth. I'm telling you, there's no other airport like this," said Whitney. "I'm so shocked at this place, it is the biggest disgrace known to man."
In a subsequent video, Whitney filmed himself arriving at Boston Logan International Airport which he called "the opposite of Pearson International Airport."
Whitney played for the Pittsburgh Penguins for three-and-a-half seasons. During his time as a defenceman, the team won the 2008 Stanley Cup Finals. He then played for the Edmonton Oilers and the Anaheim Ducks before retiring from the sport. Whitney is now part of the Barstool Sports network where he hosts a hockey podcast called Spittin' Chiclets. 
Various travel industry groups and leaders have called on Prime Minister Justin Trudeau to end pandemic-related travel mandates, which they blame for the mess at Canada's airports.
Recently, the CEO of Westjet and the Canadian Travel & Tourism Roundtable demanded that the government put an end to travel-related mandates.
"Vaccine mandate for air travellers and employees needs to be dropped," tweeted WestJet CEO Alexis von Hoensbroech last week.
The Liberal government has refused to listen to the airline industry and abandon its extreme COVID-19 travel restrictions.
We're asking readers, like you, to make a contribution in support of True North's fact-based, independent journalism.
Unlike the mainstream media, True North isn't getting a government bailout. Instead, we depend on the generosity of Canadians like you.
How can a media outlet be trusted to remain neutral and fair if they're beneficiaries of a government handout? We don't think they can.
This is why independent media in Canada is more important than ever. If you're able, please make a tax-deductible donation to True North today. Thank you so much.