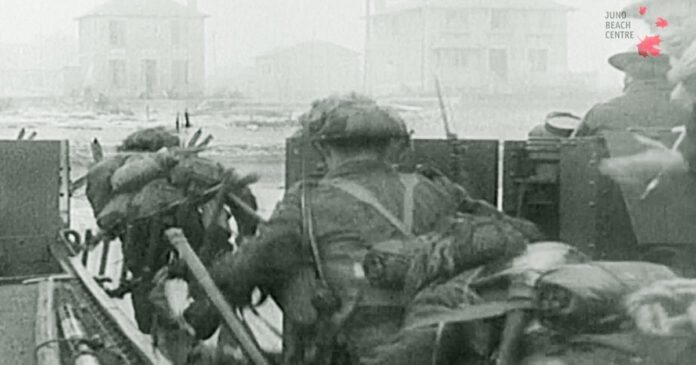 On June 6th, 1944, 14,000 Canadian soldiers would take part in one of Canada's most impressive – and consequential – military operations – D-Day. Canadian soldiers from 4 regiments – the Queen's Own Rifles in Toronto, The Royal Winnipeg Rifles of Manitoba, the North Shore Regiment from New Brunswick and the Regina Rifles from Saskatchewan – would form the 3rd Canadian Infantry Battalion tasked with securing Juno Beach in Normandy, France for the Allies.
359 Canadian men made the ultimate sacrifice in the fight for freedom on that day, and many more Canadians would die in battle in the following months of intense fighting. One man managed to survive it all — Mr. Jim Parks of the Royal Winnipeg Rifles.
Mr. Jim Parks was part of the very first wave of Canadians to land on Juno Beach, having had to swim ashore without a rifle after his landing vehicle exploded. Parks and his fellow soldiers would successfully take Juno Beach and push the Germans back through Normandy having to face multiple waves of German counterattacks. Parks would play a key role in the liberation of the Netherlands and eventually find himself in Germany, having successfully pushed the Germans back all the way from the Western coast of France into total defeat by the war's end.
On this special episode of The Candice Malcolm Show, Jim Parks – a true Canadian hero – tells his story. Jim discusses what it was like to land on Juno Beach, the details of the fighting that would ensue after the landings and what it was like to return home and settle down into normal life. Jim ends the podcast with a special message to young Canadians.
Learn more about the Memory Project.
Learn more about the Juno Beach Centre.
SUBSCRIBE TO THE CANDICE MALCOLM SHOW
We're asking readers, like you, to make a contribution in support of True North's fact-based, independent journalism.
Unlike the mainstream media, True North isn't getting a government bailout. Instead, we depend on the generosity of Canadians like you.
How can a media outlet be trusted to remain neutral and fair if they're beneficiaries of a government handout? We don't think they can.
This is why independent media in Canada is more important than ever. If you're able, please make a tax-deductible donation to True North today. Thank you so much.