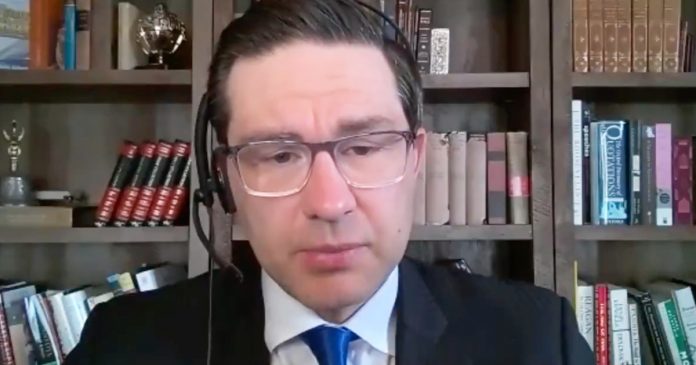 Conservative leadership candidate Pierre Poilievre is calling for Public Safety Minister Marco Mendicino's resignation over his repeatedly debunked claims that police asked the government to invoke the Emergencies Act.
Poilievre says Mendicino is guilty of "creating a fake excuse" to justify the act.
"It's crystal clear that the Minister made false statements in the House of Commons," said Poilievre. "And it wasn't just about something trivial. He wanted to give Trudeau cover to invoke the Emergencies Act, freeze people's bank accounts, and trample on civil liberties."
Deputy minister Rob Stewart appeared before the special joint committee that's looking into Trudeau's decision to invoke the Emergencies Act Tuesday evening, during which he said Mendicino's claims police asked for the powers were "misunderstood."
"The minister made false statements," Poilievre said."If he messed up, then he's incompetent. If he lied, then he's dishonest. Either way, he can't keep this important job."
Mendicino has repeatedly said police asked the government to use its emergency powers to deal with the Freedom Convoy.
"It was on the advice of law enforcement that we invoked the Emergencies Act. It was necessary and it worked," said Mendicino in April in the House of Commons.
Stewart, his deputy minister, attempted to explain away the incorrect statements by suggesting people misinterpreted them.
"I believe that the intention that he was trying to express was that law enforcement asked for the tools that were contained in the Emergencies Act," Stewart said. "My understanding is that there is a misunderstanding of the minister's words."
The RCMP commissioner, interim Ottawa police chief, and former Ottawa Chief of Police have all said they did not request the Emergencies Act and were unaware of anyone in their departments who did.
The Public Inquiry into the use of the Emergencies Act is underway. Last week, the Public Order Emergency Commission said it requested the government disclose all information that led to the decision–including all material covered by cabinet confidence and other rules of secrecy. Public hearings are set to begin in September.