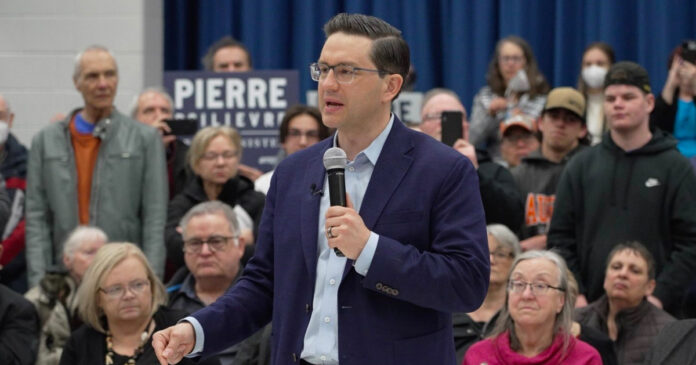 Conservative leadership candidate Pierre Poilievre has promised to implement a "pay-as-you-go" law to help limit government expenditures and curb inflationary pressures.
The policy would force lawmakers to find an equal amount of savings when proposing legislation to spend money. In other words, the government won't be able to spend money without saving an equal amount.
"The Pay-As-You-Go Law brings the real world to government. The people have been pinching their pennies long enough. It is time politicians started pinching their pennies too," says Poilievre.
The Poilievre campaign says that the Trudeau government has been facilitating inflation by spending more money than the government should, and raising taxes on Canadians.
"The cost of government is driving up the cost of living," said Poilievre. "Half-a-trillion dollars of inflationary deficits have bid up the cost of goods and inflationary taxes have increased the costs to businesses that make those goods. Why are deficits and taxes so high? To fund colossal spending increases".
Poilievre's campaign says that the law would incentivize lawmakers who would like to spend more money on government programs to find wasteful government programs and axe them. 
Poilievre argues that the "pay-as-you-go" law would mean that government bureaucrats would have to compete for government funding, creating competition that private-sector firms have to deal with.
The proposed legislation would exempt funding for national emergencies like wars, pandemics and natural disasters from the program. Poilievre's proposed law would also exclude the annual growth of the military budget, as well as the national health transfer. 
The Poilievre campaign claims that if the "pay-as-you-go" plan had been a law during the Covid-19 pandemic, $204 billion not included in the Covid-19 response plan would have been subjected to the "pay-as-you-go" legislation and in theory, reducing the government debt by $204 billion.
Poilievre is modelling his plan after the American version brought in under the George H.W. Bush administration and abandoned under the George W. Bush administration.
With Canada's inflation rate reaching 7.7% – the highest since 1983 – affordability has become a primary concern for Canadians.
Last week, Finance Minister Chrystia Freeland unveiled the federal government's plan to address the historically-high inflation rates. While touting "fiscal restraint," Freeland continued to tack on government spending by announcing $8.9 billion in measures to "tackle affordability."
We're asking readers, like you, to make a contribution in support of True North's fact-based, independent journalism.
Unlike the mainstream media, True North isn't getting a government bailout. Instead, we depend on the generosity of Canadians like you.
How can a media outlet be trusted to remain neutral and fair if they're beneficiaries of a government handout? We don't think they can.
This is why independent media in Canada is more important than ever. If you're able, please make a tax-deductible donation to True North today. Thank you so much.