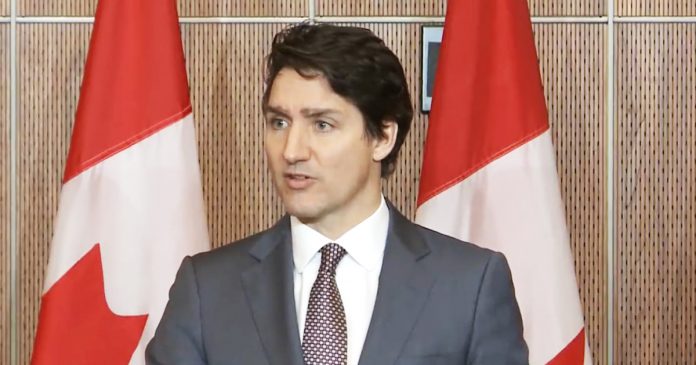 Prime Minister Justin Trudeau spoke out against the U.S. Supreme court's ruling on Dobbs v. Jackson Women, which overturned Roe v. Wade and Planned Parenthood v. Casey.
On Jun 24, the U.S. Supreme court decided that the United States Constitution did not contain a right to an abortion, and will now allow states to restrict abortion if they so please. 
Currently, 13 states have trigger laws – designed to ban abortion as soon as Roe v. Wade was overturned and is set to take hold in about 30 days. Five more states have laws that can be brought back, as they were originally struck down by the Roe decision that has now been tossed.
Prime Minister Justin Trudeau took to Twitter to bash the decision and reaffirmed his pro-abortion position.
"The news coming out of the United States is horrific. My heart goes out to the millions of American women who are now set to lose their legal right to an abortion. I can't imagine the fear and anger you are feeling right now," said Trudeau.
"No government, politician, or man should tell a woman what she can and cannot do with her body. I want women in Canada to know that we will always stand up for your right to choose."
The Liberals have already made clear that American women seeking abortions are allowed to seek abortions in Canada when the draft report of the Dobbs v. Jackson case was leaked.
In May, Liberal minister of families, children and social development Karina Gould said she sees no reason not to allow American women to seek abortions in Canada.
"I don't see why we would not," she said. "If they – people – come here and need access, certainly, you know, that's a service that would be provided."
However, the government refused to answer if unvaccinated women would be allowed to enter Canada to seek an abortion as unvaccinated Americans cannot enter Canada legally.
This isn't the first time Trudeau has commented on American affairs that do not concern Canada.
When a school shooter killed 19 students and 2 teachers in Uvalde Texas, not only did Trudeau comment on the matter, he used the opportunity to push his domestic gun restriction agenda.
Trudeau also commented on the 2020 George Floyd riots and then-president Donald Trump's reaction – infamously staring at the camera for 21 seconds before responding to the reporter's question. 
We're asking readers, like you, to make a contribution in support of True North's fact-based, independent journalism.
Unlike the mainstream media, True North isn't getting a government bailout. Instead, we depend on the generosity of Canadians like you.
How can a media outlet be trusted to remain neutral and fair if they're beneficiaries of a government handout? We don't think they can.
This is why independent media in Canada is more important than ever. If you're able, please make a tax-deductible donation to True North today. Thank you so much.