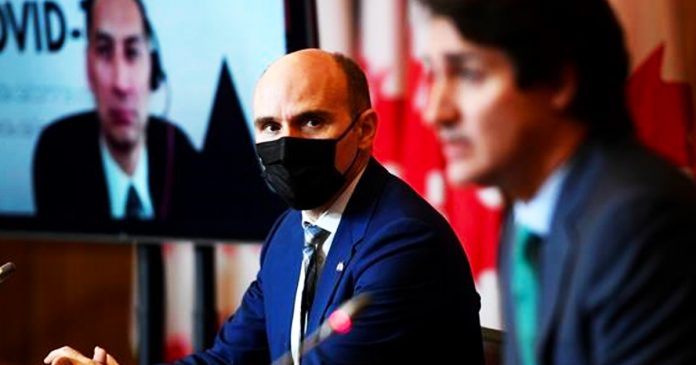 Canadians should prepare to get a Covid shot every nine months in order to be considered "up to date" on their vaccinations by the government, according to health minister Jean-Yves Duclos.
According to Blacklock's Reporter, Duclos told reporters on Thursday that the previous definition of "fully vaccinated" is no longer effective in protecting Canadians against Covid-19 and that Canadians will "never be fully vaccinated against Covid-19."
Because of the evolving nature of the virus, the minister believes Canadians should get a Covid shot every nine months to ensure their vaccinations are "up to date."
"Nine months is very clear and will help people understand why 'up to date' is the right way to think about vaccination now," said Duclos.
"'Fully vaccinated' makes no sense now. It's about 'up to date.' So am I up to date in my vaccination? Have I received a vaccination in the last nine months?"
When asked if the minister was setting the stage for a return of vaccine mandates in the fall, Duclos said the government "must continue to fight against Covid."
Duclos is not the only Canadian government figure warning Canadians about the potential return of restrictions and mandates.
In June, Canada's chief public health officer Dr. Theresa Tam warned of a potential seventh Covid wave and called on Canadians to "prepare" for a fall and winter spike.
"I think the pandemic is not over," said Tam. "It is very likely that we will get some more viral activity in the future, and we can't predict exactly how big the next wave is."
"I think we need to prepare, we need to prepare for the fall and winter season."
According to the National Advisory Committee on Immunization, 86% of Canadians over the age of 5 have had two Covid shots. In a recent report, the committee said it would "continue to monitor the evidence" on whether third and fourth booster shots were recommended for Canadians.
We're asking readers, like you, to make a contribution in support of True North's fact-based, independent journalism.
Unlike the mainstream media, True North isn't getting a government bailout. Instead, we depend on the generosity of Canadians like you.
How can a media outlet be trusted to remain neutral and fair if they're beneficiaries of a government handout? We don't think they can.
This is why independent media in Canada is more important than ever. If you're able, please make a tax-deductible donation to True North today. Thank you so much.