Nine candidates have put their names forward to be considered for the next UCP leader and Alberta premiership. The race was ignited in May, after Premier Jason Kenney announced his intentions to resign immediately following a leadership review which revealed he had the support of just 51.4% of party members. Kenney will stay on as interim leader.
All candidates have experience as elected officials, ranging from local to federal politics. Six are sitting MLAs, including five UCP MLAs. Two are former Wildrose Party leaders, and one is running even though he's been disqualified by the party.
Travis Toews
Former Finance minister Travis Toews is the only official UCP leadership candidate, so far. The party approved his candidacy on Tuesday after he filed the necessary paperwork, which included 1,ooo signatures from across the province.
Toews, who resigned his cabinet role to run in the leadership contest, left behind a $3.9 billion budgetary surplus, largely attributable to unexpectedly high energy prices and household income.
He's the caucus favorite; 25 of 61 MLAs have endorsed his candidacy.
The Grande Prairie-Wapiti MLA sat on Premier Jason Kenney's "Covid cabinet" and is now appealing to voters disenfranchised with his government's pandemic record. "It's time to unite under common principles of responsible fiscal management, individual freedom, and limited government," he said at his campaign launch in Edmonton last month.
Toews took aim at Ottawa for "moving the goalposts" after the federal government said earlier this week two Covid-19 vaccine doses are no longer enough. He doesn't support the Alberta Sovereignty Act, which he said would destroy economic certainty and investment in the province.
An Angus Reid Institute poll last month placed him in third place in the leadership contest.
Danielle Smith
Danielle Smith is making a comeback in Alberta politics, following a six-year exodus after she crossed the floor as leader of the Opposition Wildrose Party to join Jim Prentice's Progressive Conservatives. The move was widely condemned and Smith lost her riding nomination the following year.
Before seeking the premiership, she spent the interim speaking directly to Albertans as a radio host. Despite her controversial political record, the province appears poised to forgive her with recent polls placing her at the front of the leadership race with Brian Jean.
Smith's campaign appeals to motivated, freedom-loving Albertans who have a vested interest in politics over their anger with Premier Jason Kenney's Covid-19 policies. She's promised to never lockdown the province again and to resist pressure from Ottawa to introduce any such measures.
As Premier, Smith's first bill would be the Alberta Sovereignty Act, legislation authorizing the Alberta government to refuse to enforce any federal law or policy that attacks Alberta's interests or provincial rights.
Brian Jean
Seasoned politician Brian Jean is running on a promise of autonomy for Alberta by fixing Canada, not leaving it.
Jean, another former Wildrose Party leader, served as a federal Conservative MP from 2004 to 2014 before entering provincial politics. He co-founded the UCP with Kenney in the 2017 merger, but lost the party's inaugural leadership vote to Kenney.
After announcing he would pursue the leadership should Kenney lose his leadership review, he won a March byelection for Fort McMurray-Lac La Biche.
In an appeal to supporters last month, Jean proposed an Alberta Accountability Act to strengthen democracy. He said he'll champion ideas to ensure Albertans are "the happiest, the healthiest, the most free and most prosperous people in Canada and the world."
He's also said that Covid-19 has killed people, but so have the vaccines and the mandates.
Todd Loewen
UCP leadership candidate Todd Loewen said he entered the contest because his leadership is necessary to make the changes needed in government.

"I want to provide your voice — the people's voice — a voice that has not been heard enough," Loewen said as he announced his bid.
In May 2021, the UCP caucus voted to expel Loewen after he published an open letter calling on Kenney to resign.
The Independent MLA has promised to move away from lockdowns, restrictions and vaccine mandates, if elected premier. He claims the restrictions weren't effective and damaged Albertans' lives.
To stop unelected public health officials from dictating health orders, Loewen introduced a private member's bill to ensure health orders and emergency acts are debated in the legislature at the earliest opportunity. Health orders the legislature doesn't adopt will immediately be killed.
The Central Peace-Notley MLA also supports the Alberta Sovereignty Act.
Rebecca Shulz
Rebecca Shulz said she's running because the party must return to listening to the membership.
Despite holding a position in Kenney's cabinet, Schulz said she was never part of the "inner circle" or "the boy's club."
As she launched her bid, the UCP MLA stopped short of criticizing her government's pandemic policies, saying the Kenney government failed to properly consult and communicate with Albertans.
Shulz resigned as the Children's Services Minister to run in the contest, but pointed to her record — such as reaching a $3.8 billion childcare deal with the federal government — as proof she's the only candidate with a track record of getting a fair deal from Ottawa.
Her campaign confirmed Thursday that former Interim Conservative Party leader Rona Ambrose is chairing Schulz's leadership campaign.
Bill Rock
Amisk Mayor Bill Rock entered the race to advocate for rural Alberta, but has struggled to get his campaign off the ground. His lack of public profile has hindered his ability to fundraise, and he's likely going to pull out of the race this weekend, his campaign told True North.
Last month, Rock was barred from one UCP leadership panel because he was the only candidate not to meet the criteria of being a current or former MLA.
He ran for the Wildrose Party in 2015, in which he placed a distant third. After Kenney resigned, Rock stepped down from Agricultural and Forestry Minister Nate Horner's constituency association board so he could run in the leadership race.
Rock was the first candidate to voice support for the Alberta Sovereignty Act, and said he would hold a referendum on Alberta independence in 2025, if elected.
Rajan Sawhney
Former Transportation minister Rajan Sawhney said she's running because she wants a better future, not more of the same. She claims the party doesn't need the same folks "who have been in the internal cabinet making decisions."
Sawhney was elected in 2019 to represent Calgary-North East. She was briefly a part of the government's Covid-19 response team at the beginning of the pandemic. Now, she's promising supporters to launch a public inquiry into the pandemic, if elected.
She believes her government got some things right and some things wrong in its response, but mistakes have been made — like arresting pastors.
There's as many views on this as there are Albertans, she says.
Leela Aheer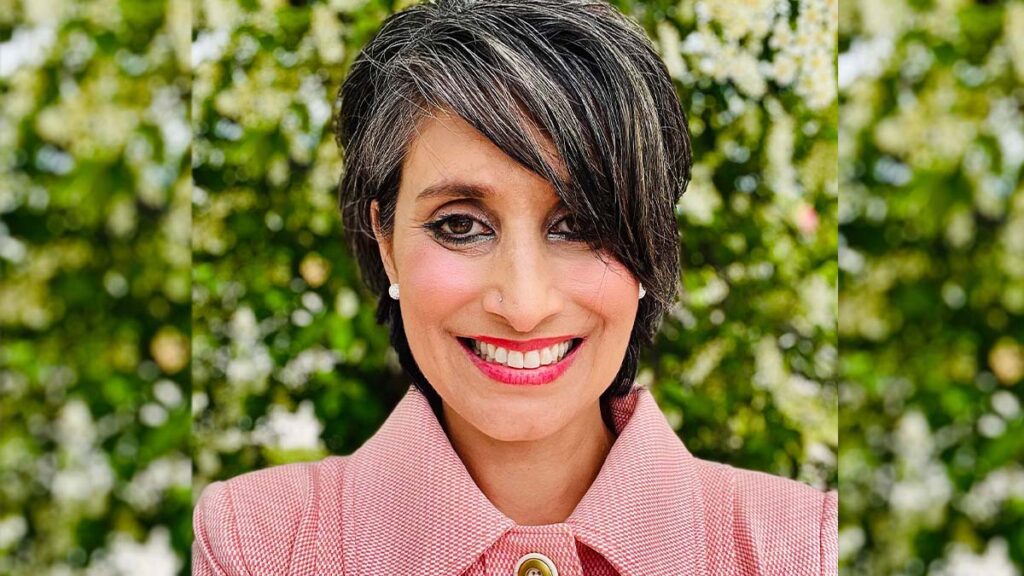 UCP MLA and Kenney critic Leela Aheer said she's running to regain Albertan's trust.
She was shuffled out of cabinet last year following her criticism of Kenney's pandemic handling.
"The party must apologize to healthcare workers for its combative relationship with them and back those apologies with action," Aheer said as she launched her campaign.
She's also stressed the importance of messaging from leadership, saying caucus and cabinet won't stand behind "divisive language."
Aheer is the only candidate who commented on the U.S. Supreme Court's decision to overturn Roe v Wade which passed abortion regualtion back to state legislatures. The news was "devastating," Aheer said in a video posted to Twitter.
Raj Sherman
The party's Leadership Election Committee already rejected an exemption request from former Alberta Liberal Party leader Raj Sherman to run in the contest, but he's launched a bid anyways.
Sherman, who was a Progressive Conservative MLA before he was kicked out of caucus, required the exemption because he was not a member of the UCP for six months prior to the contest, as required under the rules.
He said he's running on the need to heal and unify following the pandemic, debt reduction, a smaller and smarter government and to fix healthcare access.
It's improbable the party will approve his candidacy, even if he can meet fundraising and signature requirements by the July 20 deadline.
UCP members will elect a new leader and premier on October 6.
We're asking readers, like you, to make a contribution in support of True North's fact-based, independent journalism.
Unlike the mainstream media, True North isn't getting a government bailout. Instead, we depend on the generosity of Canadians like you.
How can a media outlet be trusted to remain neutral and fair if they're beneficiaries of a government handout? We don't think they can.
This is why independent media in Canada is more important than ever. If you're able, please make a tax-deductible donation to True North today. Thank you so much.