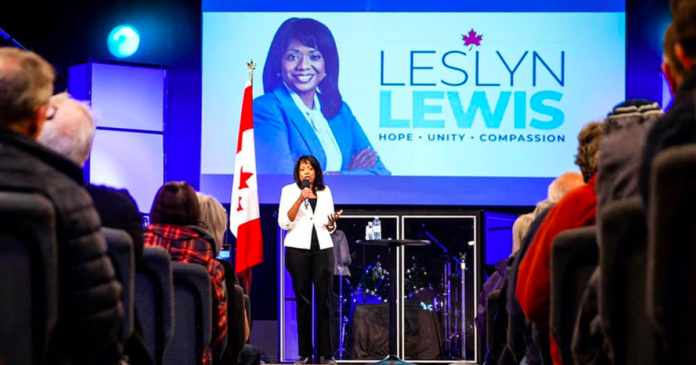 Canadian pro-life organizations are encouraging supporters to vote for Haldimand—Norfolk MP Leslyn Lewis in the Conservative Party leadership election, but are offering different takes on the ranking of other candidates.
Social conservatives are a significant part of the conservative movement and have influenced the outcome of a number of leadership races – including Andrew Scheer in 2017 and Doug Ford in Ontario in 2018.
Lewis is the only pro-life person running to lead the Conservatives. All the other candidates, including front-runner Pierre Poilievre, have expressed their support for abortion rights.
True North compiled the Conservative leadership voter guides of Canada's prominent pro-life organizations.
Right Now
The organization co-founded by Alissa Golob and Scott Hayward recommends that members fully rank their ballots. They've graded candidates based on pro-life principles and policies, as well as electability.
Right Now gave Leslyn Lewis a grade of 80%, Pierre Poilievre 68%, Roman Baber 56%, Jean Charest 32%, and Scott Aitchison 30%.
As for voting, Right Now recommends supporters rank Lewis as their first choice, followed by Poilievre, Baber, Charest and Aitchison.
The Wilberforce Project
The Alberta-based pro-life group named after former English Member of Parliament William Wilberforce is suggesting that members place Lewis as their first choice. 
"She has been a breath of fresh air and a change from the old CPC script of boring campaigns focused on monetary policy instead of dynamic messaging around issues that actually matter to voters," wrote The Wilberforce Project's political action director Cameron Wilson.
They recommend ranking Poilievre as second, Baber as third and Brown as fourth – saying that despite him being disqualified, he is still on the ballot. The Wilberforce Project does not have a preferred ranking for Charest or Aitchison because "both are terrible on life issues."
4 My Canada
The political advocacy organization founded by TV show host Faytene Grasseschi produced a detailed grading card of the candidates as well as two voting guides, but stated the goal is "not to tell you how to vote, but rather to give you good, fact based, information to help you make your informed decision."
4 My Canada graded the candidates based on multiple issues including their stances on abortion, conscience rights and vaccine mandates, as well as their electability.
They are recommending that pro-life voters who do not feel comfortable supporting pro-abortion candidates only vote for Lewis. "By only filling out your first choice, and leaving the rest blank, you are sending a message to the Conservative Party of Canada," wrote 4 My Canada.
4 My Canada also provided a voter guide based on their candidate grading card. They recommend putting Lewis first, Baber second, Poilievre third, Aitchison fourth and Charest fifth. 
Campaign Life Coalition
The political lobbyist group is calling on supporters to only put Lewis on their ballot because "her unapologetic, pro-life, pro-family, pro-religious freedom platform means she deserves to be the #1 choice of every social conservative."
They added that the other candidates are "disqualified from consideration owing to their support for abortion" as well as their advocating of "radical LGBT ideology."
Abortion has been back in the headlines following the US Supreme Court's decision to overturn Roe v Wade. Some Canadian politicians are now saying the abortion debate in Canada should be reopened. Canada does not have any federal abortion laws.
The next leader of the Conservative Party of Canada will be announced on September 10 at the Shaw Centre in Ottawa.
We're asking readers, like you, to make a contribution in support of True North's fact-based, independent journalism.
Unlike the mainstream media, True North isn't getting a government bailout. Instead, we depend on the generosity of Canadians like you.
How can a media outlet be trusted to remain neutral and fair if they're beneficiaries of a government handout? We don't think they can.
This is why independent media in Canada is more important than ever. If you're able, please make a tax-deductible donation to True North today. Thank you so much.