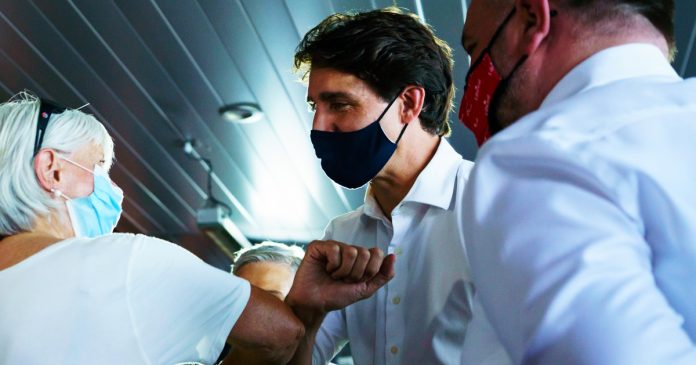 The Federal Court is proactively making documents submitted during a trial on the vaccine mandate for air travel publicly available after journalist Rupa Subramanya's exclusive report on how the government body in charge of crafting mandates had no members with a medical background.
In a rare move, the official Twitter account for the Federal Court cited "interest in the matter" on Friday before sharing a link to the proceedings.
"Documents filed in Federal Court are public, unless there is a confidentiality Order. Due to the interest in the matter of Karl Harrison et al. v Attorney General, all documents have been posted to the Court's website," tweeted the Federal Court.
Court documents are public, but normally people have to request documents through a court's registrar.
The Federal Court has traditionally only broadcast trial decisions in the past and not ongoing case documents. The most recent decision to be published was on May 30 concerning the collection of data by the Canadian Security Intelligence Service.
In her report, Subramanya laid out how the shadowy Covid Recovery government panel was composed of political appointees and not actual scientists.
Among them was director-general Jennifer Little whose educational background included a bachelor's degree in literature. Only one individual, Monique St.-Laurent had any semblance of training in public health.
While St-Laurent worked as a government employee at the Public Health Agency of Canada (PHAC), she is not a scientist.
The report sheds light on the lack of justification the Trudeau government used to impose some of the harshest mandates in the world including travel restrictions on the unvaccinated.
During testimony, Little also revealed that her unit was ordered by "very senior" officials in the Trudeau cabinet to implement the travel mandates and not PHAC. The panel also struggled to find data to back up the decision to impose the strict restrictions.
"To the extent that updated data exist or that there is clearer evidence of the users of other stakeholders of the transportation system, it would be helpful to assist Transport Canada [in] supporting its measures," said one email acquired by Subramanya.
Even days prior to the travel mandates being imposed the panel was saying it required "something soon" to help justify the mandates. 
During Little's cross-examination Little stated that she didn't "recall a direct recommendation" from PHAC or Health Canada to implement a travel mandate.
"Certainly, we worked very closely with (PHAC and Health Canada) in preparing the policy, which was supported by the government. So in terms of a written recommendation, for example, no. But as part of the policy-making process and the decision-making supporting process, certainly we would have been working – we were working very closely with our health colleagues," said Little.
We're asking readers, like you, to make a contribution in support of True North's fact-based, independent journalism.
Unlike the mainstream media, True North isn't getting a government bailout. Instead, we depend on the generosity of Canadians like you.
How can a media outlet be trusted to remain neutral and fair if they're beneficiaries of a government handout? We don't think they can.
This is why independent media in Canada is more important than ever. If you're able, please make a tax-deductible donation to True North today. Thank you so much.