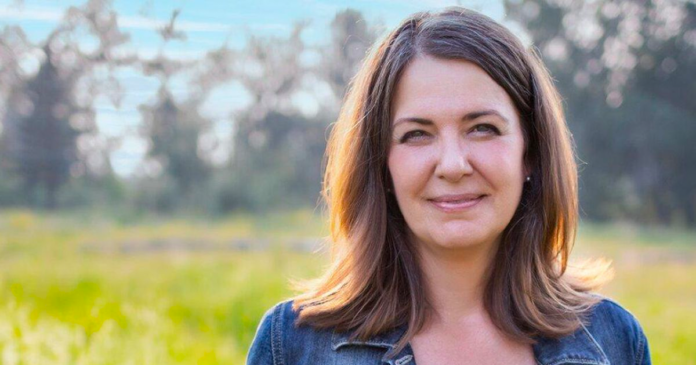 United Conservative Party (UCP) leadership candidate Danielle Smith says a voicemail mocking an Albertan over their vaccination status and political ideology from someone claiming to be a Smith campaign volunteer is fake.
Smith was forced to respond after a voicemail from someone claiming to be from the Smith campaign gained traction on Twitter.
Smith said the voicemail is a "prank" as her call centre uses a public number and was not in operation when the voicemail was left.
"Clearly it is someone pretending to be on our campaign," she wrote on Twitter.
"Probably a good idea to refrain from jumping to conclusions from dirty tactics."
In the voicemail, a female voice says she's named Dale and is calling on behalf of the Smith campaign. Dale says she checked with her supervisor to make sure the user's phone number is removed from the list.
"Actually, as it turns out, communists are not allowed at the event," Dale continues. "So please don't come and nobody will want to see you there."
Dale also says "they also don't want the vaccine" before ending the call with "and please don't ruin the lives of any other people."
Smith is using the Progressive Group for Independent Business (PGIB) to cold call potential voters. Typically, "PGIB" appears on incoming calls from the group.
Many users commenting online appear to believe the voicemail is from the Smith campaign.
Political science associate professor at the University of Calgary Melanee Thomas wrote on Twitter:
"What makes more sense:
1) the calls were genuine and from the campaign (a thing that would have a call system well in place and in use already) or
2) someone is taking the time, effort, $$, etc to 'fake it'
The simplest explanation is often the best one, folks."
She was retweeted by Duane Bratt, a political science professor at Mount Royal University.
Jaelene Tweedle, who's seeking the Alberta NDP nomination for Red Deer-North according to her Twitter bio, said she hasn't "come up with the adequate words for this yet."
"What I do know, is there is a Path Forward & it's the NDP," Tweedle wrote.
Druh Farrell, who's running for the Alberta NDP in Calgary-Bow, said the UCP has a pattern of disrespect.
"While this is one of the most egregious examples & likely a volunteer gone rogue, the UCP treats anyone who disagrees w/ them as an enemy. It will only end with a change in government," she wrote.
The incident comes as Smith is leading the other six candidates in all recent polls about the leadership contest.
UCP members will elect a new leader and Premier on October 6.
We're asking readers, like you, to make a contribution in support of True North's fact-based, independent journalism.
Unlike the mainstream media, True North isn't getting a government bailout. Instead, we depend on the generosity of Canadians like you.
How can a media outlet be trusted to remain neutral and fair if they're beneficiaries of a government handout? We don't think they can.
This is why independent media in Canada is more important than ever. If you're able, please make a tax-deductible donation to True North today. Thank you so much.