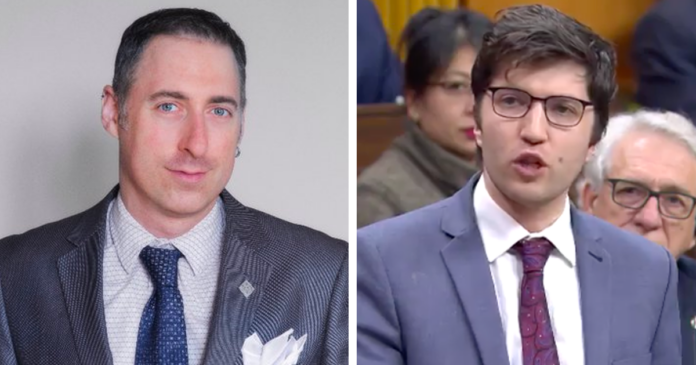 Conservatives are calling on the Parliamentary Press Gallery (PPG) to take action and reprimand journalist Dale Smith after tweeting that Conservative MP Garnett Genuis should be shot like a "lame horse."
Party leader Pierre Poilievre tweeted about the incident on Thursday, asking why Prime Minister Justin Trudeau has not spoken out about the "incitement to violence."
"So a member of the press gallery tweets that a Conservative MP should be shot. Where is the outrage? Have the Prime Minister or journalists condemned this incitement to violence?" said Poilievre.
During Question Period, Genuis demanded that the PPG revoked Smith's access to parliament and suspend his status.
"I'd like to see the Gallery take swift action to revoke Mr. Smith's privileges…at the very least Mr. Smith's privileges should be suspended pending further review," said Genuis.
In a blog post, Smith doubled down on his tweet denying that he was inciting violence against Genuis.
"Yesterday during Question Period, I made an unoriginal joke about Garnett Genuis' terrible performance," wrote Dale.
"(Andrew Scheer) claimed that I called for Genuis to be shot—which I most certainly did not—and began the process of online intimidation through rage-farming."
Dale went on to claim that Genuis was the one who owed people an apology and that he was being put through an "intimidation game" for being a journalist.
In August, numerous journalists and organizations were part of a campaign to combat so-called harassment of the media.
"This is a global problem, which threatens not only the safety and well-being of journalists, but the proper functioning of democracy itself. Many countries are now working on plans to fight back. We are calling on Canadian police and policymakers to do the same," a statement by the Canadian Association of Journalists read.
Conservative MP Michelle Rempel Garner also came to her colleague's defense and demanded Smith apologize over the incident.
"I know you think this is a joke, but it's not. Using the words 'shoot them' when referring to an elected official normalizes violence. That is no joking matter," said Rempel Garner.
"You digging your heels in on this suggests the press gallery is tone deaf on this issue, and diminishes its credibility at a time when we need credible, unbiased journalism." 
On Thursday, the PPG issued a statement distancing themselves from Smith's tweet.
"We have been made aware of a message that has been posted on Twitter by one of our members .The Gallery wishes to disassociate itself from the comments made by this journalist," wrote PPG President Guillaume St-Pierre.
"We also wish to issue a reminder that we all, journalists and politicians alike, hold the responsibility of promoting healthy and professional public debates."