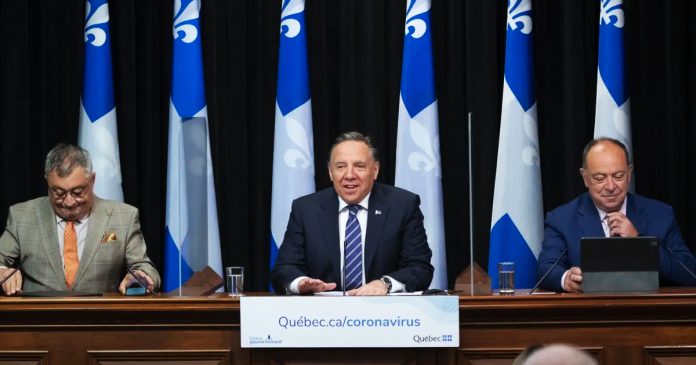 A global management consulting firm with ties to Pfizer played a key role in Quebec's Covid response, according to a report by Radio-Canada, CBC's French-language arm.
Documents obtained by Radio-Canada showed that McKinsey & Company, a firm with 30,000 consultants across 35 countries, contributed to several major pandemic decisions taken by François Legault's government.
These include decisions around communication strategies, equipment purchases, masks, PCR testing and long-term care. The firm also helped the province with its reopening plan and economic relaunch strategy, as well as Quebec's vaccination campaign.
The story was published just days before Quebec's provincial election.
During the pandemic, other clients of McKinsey included the Ontario government, European governments, the World Health Organization, the Bill & Melinda Gates Foundation, as well as large pharmaceutical companies, including Pfizer, the manufacturer of one of the two major Covid vaccines distributed in Quebec.
McKinsey's website also boasts about a strategic partnership with the World Economic Forum – in addition to stating the firm "supports the (WEF's) mission of improving the state of the world."
According to the investigation, McKinsey advised the Quebec government on its dealings with Pfizer, including on Quebec's vaccine distribution agreement with the pharmaceutical giant.
The firm also recommended that Quebec discuss with Pfizer vaccine storage and second doses.
In an end-of-term memorandum, McKinsey says it helped the Quebec government "improve its vaccination strategy and plan in light of best practices in the field."
Radio-Canada's report also noted that on the first day of the vaccine rollout, a McKinsey associate emailed Quebec's vaccine campaign director, writing "congratulations on this first day that is going well. Here are my notes on follow-ups (action, responsibilities, deadlines). Feel free to make changes."
According to the report, McKinsey could not disclose its other clients to the Quebec government.
An Apr. 6 2020 amendment to the contract between Quebec and McKinsey stated that "McKinsey may not inform or consult with the Client about McKinsey's performing engagements for the Client's competitors or other parties."
The firm also says it aims to avoid all situations that could result in conflicts of interest.
However, the Canadian Press noted the Senate of France warned that contracts with consulting firms made way for possible conflicts of interests. McKinsey had also been under a conflict of interest investigation by the US Congress after it advised both health regulators and big pharmaceutical companies.
When asked about the findings of the investigation, Legault defended the hiring of the global firm to help with managing the pandemic.
"It's expensive, McKinsey, but, obviously, that's in line with the service they provide," said Legault, who claimed the province's bureaucrats decided to give the firm sole-sourced contracts amid a public health emergency.
Legault also said that "ultimately, it was up to me and my team to make decisions, but I think the recommendations that we received from McKinsey helped us save lives."
The province's opposition leaders reacted to the news with a critical tone – with a strong reaction coming from Conservative Party of Quebec leader Eric Duhaime.
"A firm with clients whose interests potentially conflict, a firm whose client is Pfizer itself! There is certainly the appearance of a conflict of interest and it is essential to get to the bottom of this," said Duhaime in a press release.
"Who really managed the pandemic in Quebec? Were Mr. Legault and Mr. Dube the puppets of McKinsey?"
Duhaime is calling for a public and independent inquiry into the province's contracts with McKinsey.
According to Radio-Canada, McKinsey advisors cost the Quebec government $6.6 million, or $35,000 per day. The cost of McKinsey's services for the reopening plan was $1.7 million, while their help with the economic relaunch cost $4.9 million.
When asked for comment by Radio-Canada regarding its investigation, McKinsey senior advisor Eric Gaudet said, "we have to respect our confidentiality agreements."
It should be noted that the Legault government was criticized for its overall management of the pandemic.
The province imposed some of the strictest restrictions in the western world, including lockdowns and curfews, as well as some of the harshest vaccine mandates in North America which covered previously deemed "essential" businesses like liquor and cannabis stores, as well as big box stores like Walmart and Costco.
However, despite these harsh and punitive measures, Government of Canada data shows Quebec has the highest Covid death rate in the country.
We're asking readers, like you, to make a contribution in support of True North's fact-based, independent journalism.
Unlike the mainstream media, True North isn't getting a government bailout. Instead, we depend on the generosity of Canadians like you.
How can a media outlet be trusted to remain neutral and fair if they're beneficiaries of a government handout? We don't think they can.
This is why independent media in Canada is more important than ever. If you're able, please make a tax-deductible donation to True North today. Thank you so much.