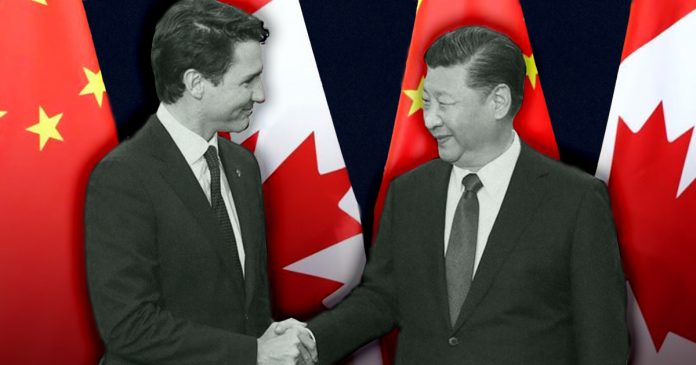 Something long overdue is quietly happening in Canadian foreign affairs. The pivot away from China has begun.
After Prime Minister Justin Trudeau rightly endured years of criticism for being soft on the authoritarian regime in Beijing, members of his cabinet are now making signals that things are going to change.
"What we want is certainly a decoupling: certainly from China, and I would say other regimes in the world which don't share the same values," Minister for Innovation, Science and Industry François-Philippe Champagne said in remarks last week in Washington, DC, in front of a gathering of business executives.
"People want to trade with people who, really, share the same values," Champagne added.
That's quite something, because if you rewind a few years that sort of talk might have been labelled Trumpian.
These aren't one-off remarks either. They're part of a calculated pattern. 
Champagne was in fact echoing themes made in a previous speech by Deputy Prime Minister Chrystia Freeland, which was also given in Washington, on Oct. 11.
The Deputy PM began her remarks by acknowledging that the once high hopes that the rest of the world would transform itself into liberal democracies like Canada have floundered.
"Liberal democracy world-wide has today declined back to 1989 levels, and autocracies have been making a comeback," Freeland said. "Many, including China, the second most powerful country in the world, have grown both wealthier and more coercive."
Freeland went on to lay out what she calls a "new economic path" where we lessen our reliance on countries like China and instead see that the good guys stick together: "Going forward, we should design our government procurement and incentive programs with friend-shoring in mind."
In one of her more pointed comments, Freeland states that "as fall turns to winter, Europe is bracing for a cold and bitter lesson in the strategic folly of economic reliance on countries whose political and moral values are inimical to our own. China's increasingly aggressive wolf diplomacy has already given many smaller democracies a foretaste of that experience."
The stuff about the need to bring those smaller democracies into our orbit — like select African and Latin nations — is modern Cold War rhetoric.
This is all a welcome reversal for a government led by a man who notoriously claimed he admired China's "basic dictatorship" and that had to be dragged kicking and screaming by its Five Eyes intelligence partners to do the right thing and deny Huawei's bid to join our 5G grid.
But what's really behind it? Did Trudeau concoct this pivot by himself? That's hard to believe. As Jason Kenney pointed out several years ago —and got in trouble for his truth-telling — Trudeau never once as a parliamentarian did anything that even aspired to heavy-lifting on policy matters.
How does a government go from thinking serious foreign policy means you fly around the world singing about feminism and climate change, to offering up meaty stuff like this?
Perhaps this isn't Trudeau or Freeland's doing at all. Maybe the Biden administration has simply told them to get with the program. The reason the aforementioned remarks were spoken in Washington, DC — as opposed to at a G8 gathering or the United Nations — could be that they were exercises in telling the Americans what they wanted to hear.
All of the above has been quietly rolled out the past year and a half as Biden's foreign policy, which is just a revised version of Trump's policies. In February 2021, not long after taking the oath of office, Biden announced an executive order to bring as much manufacturing back to America as possible.
Earlier this month, an article in the Financial Times complained that "Biden's broader security-related trade strategy has too strong an element of onshoring for comfort." Again, these are the sorts of criticisms previously leveled at Trump.
And when Freeland spoke of "friend-shoring", she was just reiterating a phrase that's been popularized by Biden administration officials.
Who knows, maybe Trudeau still does harbour some admiration for China. But Canada has no choice as Biden advances, in his own way, Trump's decoupling from China.
It'll be interesting to see how the federal Liberals make good on their words. The Conservatives have been calling for a decoupling for a couple of elections now, including pledges to cancel Canada's membership in China's global investment bank, which former finance minister Bill Morneau had us join.
There are a lot of creative ideas on the table for how Canada can decouple from China. It looks like the Liberals are now surprisingly open to them.
We're asking readers, like you, to make a contribution in support of True North's fact-based, independent journalism.
Unlike the mainstream media, True North isn't getting a government bailout. Instead, we depend on the generosity of Canadians like you.
How can a media outlet be trusted to remain neutral and fair if they're beneficiaries of a government handout? We don't think they can.
This is why independent media in Canada is more important than ever. If you're able, please make a tax-deductible donation to True North today. Thank you so much.