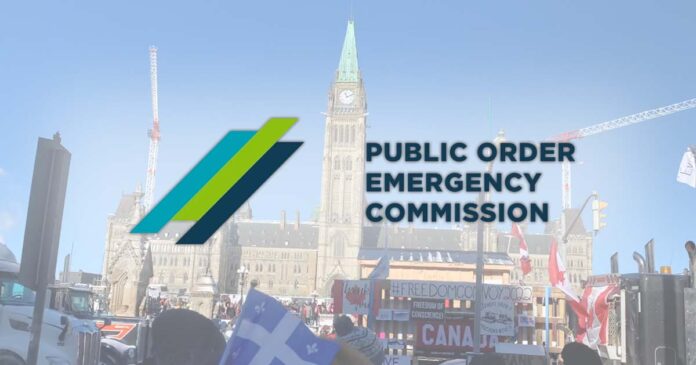 On Day 25 of the Emergencies Act hearings, Finance Canada officials confirmed that Canadian banks took measures to freeze some bank accounts at their discretion without receiving information from the RCMP.

Deputy Minister of Finance Canada Michael Sabia testified Thursday morning, alongside two assistant deputy ministers, Isabelle Jacques, who oversees financial security, and Rhys Mendes, who oversees economic policy.

Commission counsel asked the witnesses to explain the process by which banks went about freezing the accounts of Freedom Convoy protesters based on the emergency measures drafted by Finance Canada.

"The banks would receive some information from the RCMP and then they would vet that information and exercise some discretion as to whether or not they should take measures under the order to freeze the accounts. Is that right?" Commission lawyers asked.

"Yes, I would say so," Jacques told the Commission. "Also, on their own – as I mentioned before – they could review their own information and use the systems they have to detect suspicious transactions which they did and on their own they did freeze bank accounts without any information received from the RCMP."

Commission counsellor Gordon Cameron questioned the three witnesses on who was ultimately responsible for the freezing of the accounts.

"If the government is saying these measures were 'the right thing to do' and the Department of Finance says 'we had no part in the enforcement of this' and the people who had enforcement in this say 'we didn't write this law', who takes responsibility for the fact that these accounts were frozen? That people couldn't pay their rent. That people couldn't buy their groceries. Who takes responsibility for that?" Cameron asked the witnesses.

"We certainly designed the measures," Jacques responded. "In developing these orders, we tried to be as targeted and practical as possible…I think to the extent that we developed the emergency order and that we had a successful implementation of that order in my view was quite a feat."
Cameron asked the same question to Sabia – "Who takes responsibility for seizing the bank accounts?"

"We set the policy" Sabia responded. "We are accountable for that policy."
Cameron also pressed the Finance Canada witnesses for the impacts that their emergency measures had on the family members of protesters – people who had nothing to do with the Freedom Convoy other than being related to protesters who had their assets seized.

"Your measures were working because they were affecting people who had nothing to do with the protest other than they had family members at the protests and I put it to you that you must have realized that would be one of the effects of freezing of the accounts the way that they were," Cameron said to the witnesses

"When we developed the policy we were focusing on those people involved in the illegal activities and in our discussions with the RCMP these discussions came to light. That was not the focus of the policy development, we understand that maybe some people were impacted," Jacques replied.

Convoy lawyer Brenden Miller asked Sabia if he believed that the government interfering in the donations made to the GoFundMe or GiveSendGo funds would be a violation of the individual donors' freedom of expression.

"The government took a decision that these activities were illegal," Sabia responded.

Jody Thomas, Justin Trudeau's national security advisor, also testified Thursday.

Internal emails composed by Thomas during the Freedom Convoy protest show that she held a very negative view of the protesters in Ottawa and referred to them in one email as people who "do not care about or understand democracy."

Prior to receiving a threat assessment from law enforcement agencies, Thomas wrote that the protest was about "a national threat to national interests and institutions."

When Thomas was asked to explain the wording in this email by Commission counsel Thomas said that she had never in fact received a threat assessment. When asked why the assessment was never given to her, Thomas replied, "I think it fell through the cracks and we were overtaken by events."
Thomas told the commission, "bouncy castles had happened. The view that they were here to stay, that they had zero regard for the citizens of Ottawa, that social media was talking more and more about aggressive action to stay. It was just a change in tone."

Thomas also repeated the false claim that a wrecking ball was on Wellington Street hanging from a crane. What was in fact seen on the crane was a weight and not a wrecking ball.
What happens next?

Hearings resume tomorrow morning at 9:30am ET.
True North will continue to bring you daily coverage of the ongoing Public Order Emergency Commission.