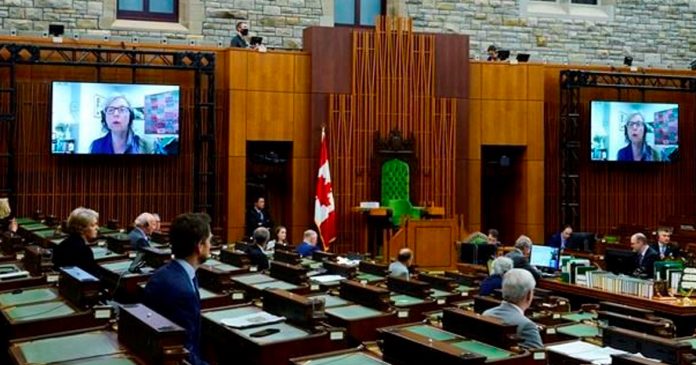 Government spending numbers recently reported by Statistics Canada which show spending declining in several sectors across all government levels are "significantly skewed", a well-known business professor claims.
According to a recent Statistics Canada overview, total government expenditures on economic affairs tanked by -32.7% this year across municipal, provincial and federal governments.
However, Carleton University Sprott School of Business associate professor Ian Lee told True North that the overview doesn't paint an accurate picture.
"These numbers are significantly skewed by the winding down of pandemic support programs and payments of all kinds across the federal and provincial governments," said Lee in response to interview questions via email.
"If you examine total government spending in 2019 and compare to 2021-22, government spending is much higher than pre-pandemic."
Alongside a reduction in economic spending, the report claimed that governments spent -14.8% on defence totalling only $482 per capita this year compared to $566 per capita in spending reported between 2020-2021.
Social protection also saw a decline in spending per capita by -20.3%. Meanwhile, spending was up in general public services (+8.3%), public order and safety (+5.6%) and health (+5.1%).
The Fraser Institute found in an August report that total federal spending was 27% higher this year than in 2019-2020.
"In summary, while spending is declining in 2022 as the pandemic comes to an end, total government spending across the board has increased dramatically since the year before the pandemic," said Lee.
Federally, Conservative leader Pierre Poilievre has blasted Ottawa for "uncontrolled spending" which he claims contributed to the current inflationary crisis. 
On Monday, Poilievre tweeted a video of Bank of Canada governor Tiff Macklem admitting that if the government cut pandemic stimulus sooner it could have mitigated some of the affects of inflation.
"The Liberals' uncontrolled spending with borrowed and printed cash led to the inflation and higher prices we have today. Even the Bank of Canada agrees," tweeted Poilievre.
While before the House of Commons finance committee last week, Macklem told parliament that he believed that the federal government should have eased off on stimulus much sooner.
"If we knew everything a year ago that we knew today, yes I think we should have started tightening interest rates sooner to withdraw the stimulus," said Macklem.
"(If) there would have been less stimulus in the economy, there would have been less demand, (inflation) would have been less."
"Policies aimed at mitigating the effects of inflation on citizens really need to be targeted, targeted on the most vulnerable, and temporary, temporary while this is an inflation problem," he continued.