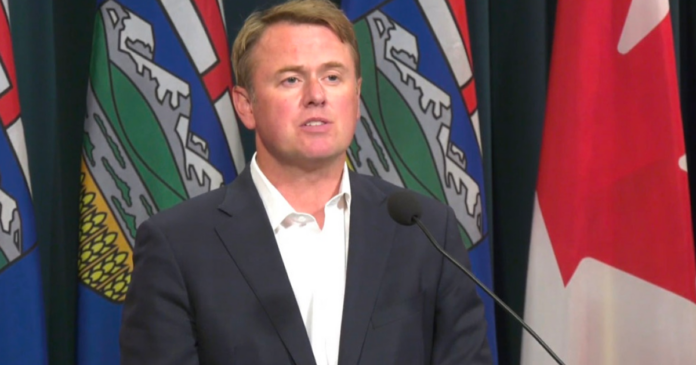 Alberta Justice Minister Tyler Shandro says the Liberal government is still intent on banning shotguns and rifles.
Early Friday morning, Liberals on the House of Commons Public Safety committee withdrew a controversial amendment to Bill C-21, which would ban numerous models of rifles and shotguns, including those primarily used by hunters, farmers, and sport shooters.
Shandro said firearms owners across Canada "breathed a sigh of relief" when the announcement became public — until a statement from Public Safety Minister Marco Mendicino "made it clear" that the decision to remove the amendments "was merely a pause in their campaign."
"It is becoming increasingly clear that further action will need to be taken to respond to the federal government's hostility towards hunters, farmers, sport shooters and Indigenous Peoples," Shandro said in a statement. 
Bill C-21, which cements the Liberals' ban on handguns, is before the House of Commons public safety committee. Last year, a Liberal MP introduced an amendment banning in criminal law, rather than regulations, any rifle or shotgun that could accept a magazine with more than five rounds, regardless of whether it has such a magazine.
Critics, including the federal Conservatives and the Alberta government, have said the Trudeau Liberals are unfairly targeting law-abiding firearms owners.
In November, Mendicino said that the Conservatives and other critics of the C-21 amendment were "whipping up fear." In a statement Friday morning, he acknowledged there have been "legitimate concerns raised."
"We are now getting to work with our parliamentary colleagues to craft a clear solution that will keep assault-style weapons off the streets," he wrote.
Shandro said law-abiding firearms owners know this is "thinly worded code" signalling Mendicino's intent to continue to pursue avenues to ban widely owned shotguns and rifles.
Conservative leader Pierre Poilievre trumpeted the amendment's withdrawal as a victory, but also warned that the Liberals are still intent on banning hunting firearms.
"We know his agenda," Poilievre said. "He'll reintroduce this either in this parliament or he'll dream that, God forbid if he ever got a majority, he would ram it through. That's why the only way that law-abiding hunters and farmers will be able to protect their way of life is to elect a Conservative majority government led by Pierre Poilievre."
The Liberals are still proceeding with Bill C-21, which, if passed, will ban handgun sales and introduce "red flag" and "yellow flag" laws to expand the ways authorities can seize firearms of individuals believed to be a danger to themselves or others, or those suspected of owning firearms without a licence.