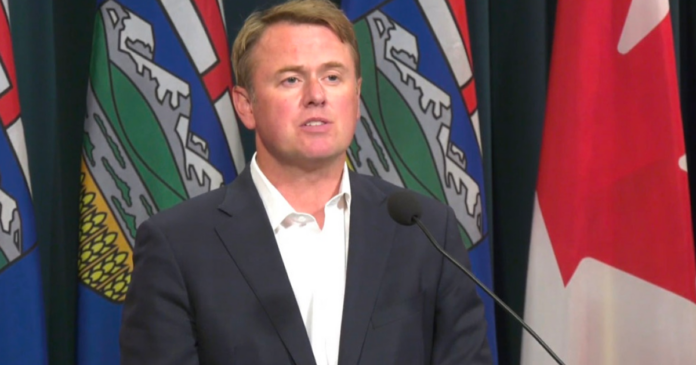 After the Public Order Emergency Commission determined that Prime Minister Justin Trudeau's use of the Emergencies Act was appropriate, Justice Tyler Shandro said Alberta maintains that the act's invocation "sets a dangerous precedent."
According to Commissioner Paul Rouleau the federal government's invocation "was appropriate" and in accordance with the requirements set out by the emergency legislation.
But Shandro says the federal government's consultation with provinces was inadequate "and that unnecessarily invoking the Emergencies Act set a dangerous precedent."
"The decision to invoke the act violated the constitutionally guaranteed rights of Albertans and gave the federal government the ability to seize property without due process of law," he said.
"As a result, the conclusion reached by the inquiry does not affect Alberta's decision to participate in legal challenges initiated against the federal government by the Canadian Constitution Foundation and the Canadian Civil Liberties Association last year."
Trudeau invoked the act for the first time in Canadian history in February 2022 to forcefully remove freedom convoy protests who descended on the nation's capital for three weeks to protest Covid-19 restrictions.
In his five-volume analysis, Rouleau said what originally began as a mass protest with legitimate concerns eventually became a national emergency. Lawful protest descended into lawlessness, culminating in a national emergency, he said.
"In my view, there was credible and compelling information supporting a reasonable belief that the definition of a threat to the security of Canada was met."
Rouleau also added that he arrived at the conclusion "with reluctance."
"The state should generally be able to respond to circumstances of urgency without the use of emergency powers," Rouleau wrote.
Rouleau's report included several dozen recommendations including a review of the Emergencies Act to ensure "the threshold remains high, the invocation of the Act remains exceptional, and all appropriate safeguards are put in place to maintain Parliament's ultimate and effective control over the steps taken by the Government in response to a public order emergency."
Other recommendations include giving future commissions more power to force the government to disclose information. Additionally, Rouleau suggested prohibiting MPs from claiming "Parliamentary privilege to refuse to testify before a commission of inquiry into a public order emergency."
Shandro said the report's 56 recommendations in the report show that there were many issues with the way the federal government used the Emergencies Act. He said his department will be reviewing the report and its recommendations.
"One thing is clear: the federal government must involve provinces and territories in the decision-making process for future emergencies," he said.
"Matters like infrastructure, policing and the economy have provincial impacts and Alberta must have a seat at the table when decisions are being made that affect our province and our people."