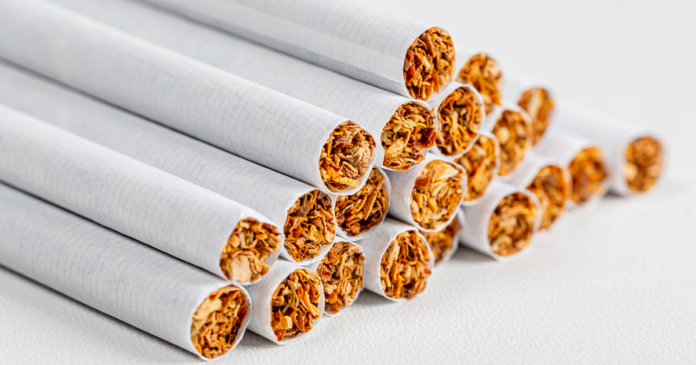 It is rare in Canada that a major narcotics bust does not have the element of contraband tobacco as the cash cow.
They go together like glued paper, with the cigarettes used to either generate cash on their own, or to finance criminal projects like drug running, firearms purchases and human smuggling.
Just the other day, for example, RCMP out of Winnipeg seized $2.5 million in drugs, 19 firearms including seven semi-automatic rifles or machine-gun-like weapons, and contraband cigarettes that, if legal, would have yielded $1.47 million in federal and provincial tax revenues.
The contraband played second fiddle in the media as if it was no big deal when the seizure, in fact, represented 143 master cases of unstamped and therefore illegal First Nations cigarettes.
So it was no small haul.
That many master cases represents 7,150 cartons, or 71,500 20-cigarette packs. Or one million, four hundred and 30,000 individual cigarettes.
If legal, they would have sold for a minimum of $1,430,000, of which approximately 75% would have been taxes.
Project Dawgpound, launched in May 2022, disrupted a multi-commodity criminal network centred in Manitoba, reaching communities province-wide.
The criminal network's tentacles also stretched to Calgary, Vancouver, Pickering, Ont., Toronto and the Greater Toronto Area, Moncton, N.B., and Prince Edward Island.
Project Dawgpound investigators seized large amounts of various drugs, including 7.8 kilograms of cocaine, 327 tablets of MDMA, 13.82 kg of crystal MDMA, 116 grams of purple down, 139.45 grams of carfentanil, 2.06 kg of crystal methamphetamine, and five kilograms of psilocybin (magic mushrooms).
Nineteen firearms, vehicles, electronic devices, drug trafficking paraphernalia, and "Crazy Indians" gang patches were also seized.
"Project Dawgpound yielded fantastic results and got a kilo-level trafficker and his network off the streets," said Inspector Grant Stephen, in Charge of Federal, Serious and Organized Crime for Manitoba RCMP.
"We will continue to enforce against the illegal drug trade and disrupt networks that often lead to or are connected with organized crime in the interest of creating a safer Manitoba and a safer Canada."
Such major seizures, however, are rare.
Back in 2018, The Sûreté du Québec (SQ) arrested 60 people and conducted 70 raids across Quebec as part of a massive police operation targeting contraband tobacco, drug trafficking and money laundering at an international level.
The SQ, which is relentless in its pursuit of the contraband tobacco network, said Mygale — or Operation Tarantula, in English — was then the largest operation in Canada against contraband tobacco and trans-national crime.
Operation Mygale involved a total of 700 officers in Quebec and Ontario, while simultaneous raids took place elsewhere across North America, in South America and in Europe.
Officers carried out arrests and raids in homes and businesses in the Montreal region, on the Kahnawake Mohawk territory on Montreal's South Shore, the Laurentians, Lanaudière, the Montérégie and Six Nations in Ontario.
The seizures in Operation Mygale ended up being impressive.
Police seized tobacco, money, and drugs during their two-year-long investigation, including:
Over $13.5 million in tobacco.
Over $1.5 million related to illicit transactions in Canada.
Almost $3 million in American currency.
836 kilograms of cocaine.
21 kilograms of methamphetamine.
100 grams of Fentanyl.
16 kilograms of marijuana.
The success of Operation Mygale served to emphasize the SQ's reputation as the fiercest law enforcement agency in Canada when it comes to tracking down and prosecuting players in the contraband tobacco market—of which the Hells Angels tended to control in Quebec.
For the Hells Angels, contraband tobacco was as good as gold, the tremendous proceeds of which paid for their gun running, their hardcore narcotics trade and their human trafficking operations.
Death was never ruled out, as the Biker War can attest.
The Quebec Biker War (French: Guerre des motards au Quebec) was a vicious turf war in Montreal lasting from 1994 to 2002, between the Quebec branch of the Hells Angels and its rival, the Rock Machine.
The war left 162 people dead, including civilians. There were also 84 bombings and 130 cases of arson.
In March 2002, American journalist Julian Rubinstein wrote about the biker war.
"Considering how little attention the story has attracted outside Canada," he said, "the toll is staggering: 162 dead, scores wounded. The victims include an 11-year-old boy killed by shrapnel from one of the more than 80 bombs bikers planted around the province.
"Even the New York Mafia in its heyday never produced such carnage, or so terrorized civilians."
The majority of those Quebec Hells Angels, however, did end up in prison.