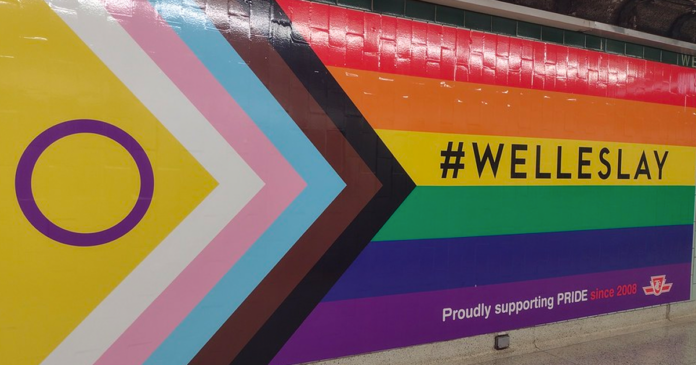 The Toronto Transit Commission (TTC) is rolling out a new "2SLGBTQQIA+" alert chime on its subway system during Pride Month, as part of its "commitment to ensuring all customers and employees feel safe, welcome and included on public transit."
The current chime that plays before platform announcements will be replaced with one sung by Toronto's Singing Out choir, a queer group that describes itself as the city's largest "non-auditioned, mixed-voice, 2SLGBTQQIA+" community choir.
This is what our regular TTC alert tone sounds like, sung by Singing Out, a 2SLGBTQQIA+ choir. We call it Pride Chime. And you'll be hearing it all June on the subway. Happy Pride, Toronto! pic.twitter.com/YglVqWv6ME

— TTC Customer Service (@TTChelps) June 1, 2023
The TTC's new initiative comes amid a wave of crime and disorder on the transit system – making many riders feel unsafe.
TTC spokesperson Stuart Green told True North the new chime is an "amazing celebration of diversity" and hopes the initiative will help transit riders feel safe.
"As part of our commitment to ensuring all customers and employees feel safe, welcome and included on public transit, we are undertaking a number of initiatives to celebrate Pride Month," said the TTC spokesperson. "The alert chime is one of them."
"The safety of our customers and employees is paramount to all we do. Fostering a culture of inclusion on public transit and embracing those who are often victims of discrimination and violence is another way we are making the TTC safer for all."
Ahead of the launch of the new chime, the TTC has installed posters across the transit network to notify commuters of the change. The "2SLGBTQQIA+" alert chime is temporary, and a normal chime will be reinstated once Pride Month has ended.
On Twitter, users questioned the TTC's priorities amid the spike in violent crimes.
"TTC priorities. That will make being stabbed or blinded by fireworks so much more enjoyable," wrote one user. Another user sarcastically said, "Obviously this solves one of Toronto's biggest problems so I'm delighted to hear of this change. Bravo, TTC!!"
A February report from the TTC CEO found violent incidents against transit riders have gone up by 60% since 2019, and went up 46% between 2021 and 2022.
Incidents that have taken place on the TTC this year include a 16-year old boy being fatally stabbed at Keele subway station, another 16-year-old being stabbed on a bus at Old Mill Station, and a woman being stabbed multiple times in the head and face on the Spadina streetcar.
Meanwhile, a video emerged Tuesday of a teenager setting off fireworks on a crowded TTC bus in Scarborough, causing havoc on board. The TTC said it is aware of the incident, and that "those responsible will be held accountable."
According to a February Nanos poll, 71% of Ontarians feel less safe riding on public transit than they did last, while another poll found that about 40% of TTC users feel the system is "pretty unsafe" or "very unsafe."
Meanwhile on the TTC… pic.twitter.com/Bo3M9eEloi

— 6ixBuzzTV (@6ixbuzztv) May 30, 2023
Editor's Note: A previous version of this story said the new "2SLGBTQQIA+" alert chime was for the subway's doors. It is instead for platform announcements in stations. True North regrets the error.