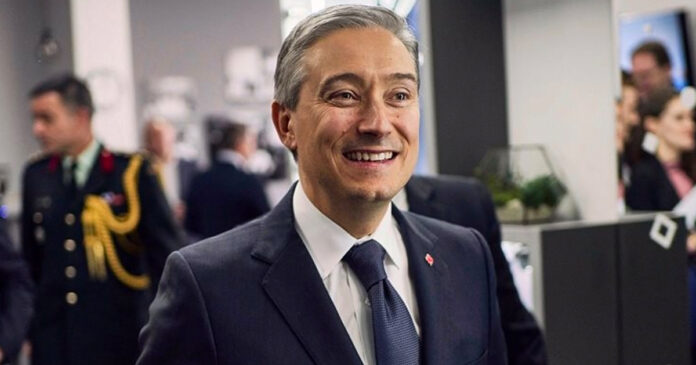 Innovation Minister Francois-Phillippe Champagne has come under fire for his support of several media organizations who sent a complaint to the Competition Bureau regarding the removal of news content from Meta's platforms. Critics argue Champagne's public support interferes with the Bureau's independence.
Earlier this week, several broadcasters and media outlets sent a joint letter to Competition Commissioner Matthew Boswell asking that he investigate whether or not Meta is guilty of anti-competitive conduct following their removal of Canadian news from Facebook and Instagram.
Meta's recent decision to remove Canadian news from its platforms is in response to the Trudeau government's passing of the Online News Act which would require the tech giant to pay the media companies for content hosted on their sites.
The joint letter sent to the Competition Bureau alleges that Meta has abused its dominant position in the marketplace, violating anti-competitive conduct.
"I am determined to use every tool at our disposal to ensure that Canadians can have access to reliable news – across all platforms. I fully support the complaint made to the Competition Bureau by CND media groups against Meta in their effort to promote a free & independent press." tweeted Champagne.
Champagne will ultimately decide if Boswell is going to be reappointed to his role of competition commissioner next year or if he will select another successor.
His department is currently looking into modernizing the Competition Act through consultations.
"Ministers should be staying away from any decisions they would make because that undermines their independence even more," said Duff Conacher, co-founder of Democracy Watch.
University of Ottawa's Canada Research Chair Michael Geist called the tweet a misjudgment, especially considering that Champagne has the power to reappoint Boswell. Geist said the public intervention was, "at least an appearance of conflict and that alone is deeply troubling."
The CBC, News Media Canada and the Canadian Association of Broadcasters all of whom signed the joint letter believe that social-media platforms are the main avenue for people to receive their content which makes Meta's decision an abuse of their dominant position.
"Having positioned itself as an unavoidable intermediary or gatekeeper between news organizations and their audiences, Meta's blocking of news content removes a critical channel through which Canadian news organizations distribute their news content," the letter said. "If Meta is allowed to proceed unchecked, it could inflict significant damage to Canadian news organizations' ability to offer quality news services to Canadians, which is critical to the functioning of a free and democratic society," it continued.
The Competition Bureau claims that it had already been looking into Meta's decision to block news even before they received the letter of complaint.
"As the bureau's preliminary review is ongoing and there is no conclusion of wrongdoing at this time, it would be inappropriate to speculate as to potential outcomes, timing, or appropriate next steps. Should the bureau conclude that the conduct in question falls within the Competition Act, we will not hesitate to take appropriate action," said John Power, a spokesman for the bureau.