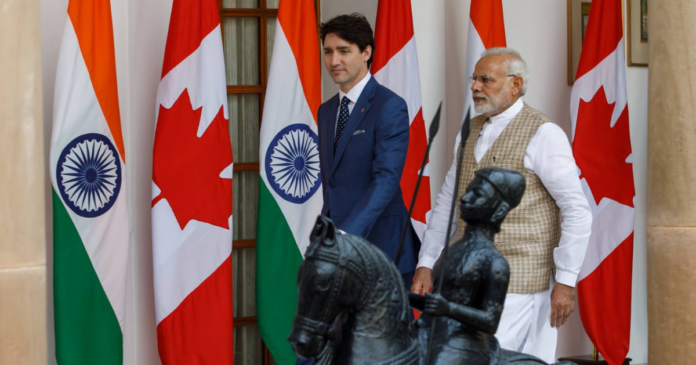 The Indian government has rejected Prime Minister Justin Trudeau's accusation that it was involved in the killing of Sikh activist Hardeep Singh Nijjar.
The rejection comes after the Trudeau government ejected a senior diplomat on Tuesday and said that an investigation was underway into the Indian government's role in the June shooting of Nijjar outside a Sikh temple in Surrey, B.C.
Nijjar was shot by two masked gunmen whose identities remain unknown.
India responded by expelling a senior Canadian diplomat Tuesday.
"Allegations of (the) Government of India's involvement in any act of violence in Canada are absurd and motivated," a statement from India's foreign office said. "Similar allegations were made by the Canadian Prime Minister to our Prime Minister, and were completely rejected."
"We are a democratic polity with a strong commitment to rule of law. Such unsubstantiated allegations seek to shift the focus from Khalistani terrorists and extremists, who have been provided shelter in Canada and continue to threaten India's sovereignty and territorial integrity. The inaction of the Canadian Government on this matter has been a long-standing and continuing concern," the statement continued.
Nijjar's family has spoken out since Trudeau made the allegations public, saying that they are relieved that their suspicions are being confirmed.
"It's a sigh of relief for the family and the Sikh community here because from day one we kind of had this idea and knowledge that if anything would happen to him the Indian government would be involved," said Nijjar's son, Baraj Singh Nijjar.
"It was just a matter of time for when the truth would come out. It's finally coming to the public eyes that the Indian government is involved in this. It's a really serious foreign interference case."
Tensions continue to rise between the two nations as Prime Minister Narendra Modi and Prime Minister Trudeau had only a brief and tense exchange at the recent G20 summit in New Delhi, where Trudeau said he raised alleged election interference in Canada on the part of Modi's government.
Canada has also announced that it would be canceling a trade mission trip to India that had been planned for the fall.
"Any involvement of a foreign government in the killing of a Canadian citizen on Canadian soil is an unacceptable violation of our sovereignty," said Trudeau in the House of Commons on Monday. 
"In the strongest possible terms, I continue to urge the government of India to cooperate with Canada to get to the bottom of this matter," Trudeau continued. "Canada is a rule of law country. The protection of our citizens and defense of our sovereignty are fundamental."
India has been demanding that Canada take action against the Sikh independence movement in Canada, which desires to have its own region separate from India rule and be called Khalistan.
"Such a charge against India by a G7 nation is unprecedented. The Canadian government has deliberately made a spectacle of it to please its domestic constituency amongst the Sikh diaspora," said former diplomat K.C. Singh.
Singh said that without Trudeau presenting any hard evidence, he only "unnecessarily upped the ante" with his statements.